Extreme measures to secure water supply - Level 4 restrictions
Live with Ian Campbell, Manager Communications and Events and Chris Best, Manager Water and Sewer Services
12 February 2020
As the saying goes – extreme circumstances require extreme solutions and that is most certainly the case with the work currently being done to secure the safe supply of water to the communities in the north of our Shire.
The Brogo-Bermagui Water Supply System, that is largely fed by the Brogo Dam and subsequently the Brogo River, takes in Quaama, Cobargo, Bermagui, Beauty Point, Fairhaven, Wallaga Lake, Wallaga Lake Heights, Akolele and Wallaga Lake Koori Village.
On the back of the Brogo River/Brogo Dam catchment being largely burnt by the Badja Forest and Werri Berri Fires and the heavy rainfall event over the past few days, the quality of the water available from this key source to supply these areas is now extremely poor.
Therefore, local contractors have begun carting all the water used in the Brogo-Bermagui Water Supply System from Bega and Level 4 water restrictions have also been introduced for this system to support this move and ensure an adequate level of water remains available.
Under level 4 water restrictions, water may only be used outdoors for essential health and safety purposes. The use of water outdoors for garden watering, washing cars and boats, or for any other purpose is not permitted.
Bega Valley Shire Council's Water and Sewer Manager, Chris Best, said while the rain was certainly welcome, it has brought with it some significant challenges.
"Brogo Dam rose from 10% to overflowing in just one day. The water flowing into the dam is full of sediment, ash, soot and debris," Mr Best said.
"With the turbidity levels subsequently being measured at well over 100 times the critical control level, the Brogo River supply has been isolated and emergency measures put in place.
"These emergency measures include carting water from Bega, re-commissioning the supply of water from Couria Creek Weir in the north and the installation of flocculation and sedimentation tanks at Brogo.
"We are also working closely with the Australian Defence Force to secure a portable water treatment plant and NSW Health, WaterNSW, and the Department of Planning Industry and Environment are providing advice and support.
"In regard to the water carting program, we are talking about transporting up to a million litres a day from Bega – an expensive task with trucks working non-stop around the clock."
He urged people reliant on the Brogo-Bermagui supply to reduce their water use immediately (inside and outside), to help protect supply.
"Please think about how long you spend in the shower and how often you run your washing machine and dishwasher – every drop you save helps secure our water supply," Mr Best said.
"Without a significant reduction in demand there is a possibility we will need to resupply water from the Brogo River before it has reached desired quality levels."
If this occurs, the water supplied to the system will likely be discoloured and have a noticeable smoky taste and smell. Boiling water will likely be required to disinfect all water used for drinking or cooking. A boil water notice may also be necessary for alternative supplies from Couria Creek Weir and Tilba Dam.
We acknowledge the difficulty this situation will create for many people and businesses in an area of the Shire that has suffered from the recent bushfires and we thank everyone in advance for their understanding and cooperation during this difficult and challenging time.
For more information on water across our Shire, visit www.begavalley.nsw.gov.au/water
Photographs
Brogo River: Brogo River (near the BVSC pump station on Tuesday) – poor water quality from rainfall across the catchment burnt by recent bushfires has compromised supply from this source.
Water Carting: Water and Sewerage Services Operations Superintendent, Bruce Powell, coordinating water carting and delivery to Brogo Balance Tank 1 on Tuesday.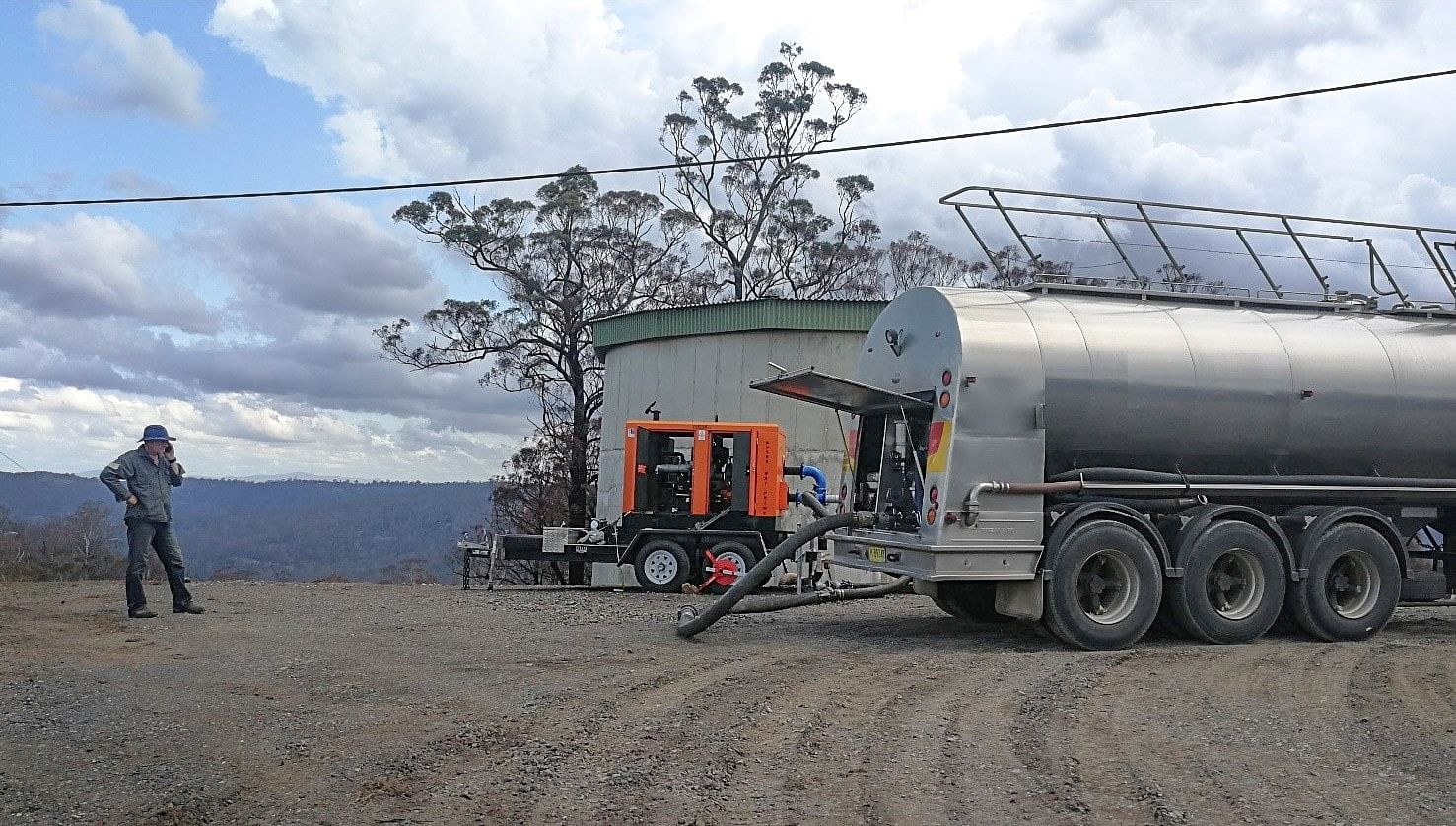 END
---
Rate This Page
---
Share This Page