Estuaries of the Bega Valley Shire
What is an estuary?
Estuaries are places of transition. They are where freshwater draining from our coastal catchments mixes with ocean waters. Broadly speaking, estuaries are semi-enclosed waterbodies with open or intermittently open connections with the ocean.
Estuaries vary in their shape and size. Estuaries also support many different habitat types and species.
Estuaries are one of the most important natural resources and are some of the most intensively used areas.
Estuaries are valuable community assets, providing many ecosystem services and are relied on for commercial and cultural activities, tourism and recreation.
The way we use estuaries can affect how they function and their overall condition or health.
Estuaries are subject to pressures from human activities as well as natural events such as storms and floods. Common threats to estuary health include increased nutrients and algal blooms, loss of habitat and biodiversity, contaminants and pollutants, accelerated rates of sedimentation, disturbance of acid sulfate soils, changes to freshwater and tidal flows, invasive species and climate change.
A range of physical characteristics for each estuary listed, including their location and size is provided. Many estuaries have also been subject to tidal surveys and/or hydrographic surveys that may cover part or all of an estuary. The link will provide a listing of available tidal survey reports and a map detailing the most comprehensive survey. Hydrographic survey map sheets and data are also provided.
Bega Valley Shire Council has developed formal estuary management plans for: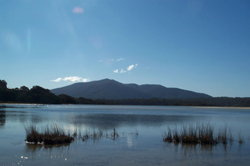 Related Pages
Estuaries of the Bega Valley Shire
---
Rate This Page
---
Share This Page