Dye Testing in Merimbula Bay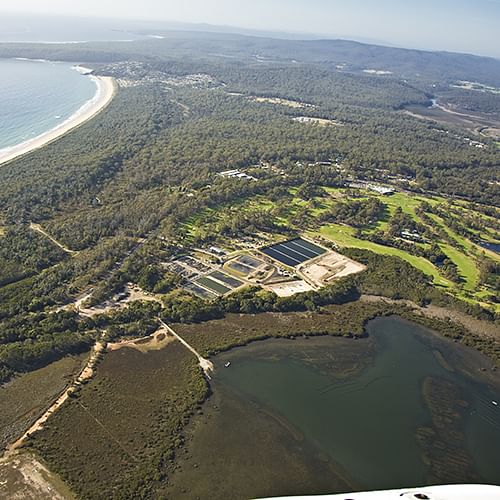 29 August 2017
Bega Valley Shire Council will undertake dye dispersion tests in Merimbula Bay during the coming month, weather permitting.
With Council commencing an environmental assessment process and developing a concept design for the Merimbula Sewerage Treatment Plant (STP) Upgrade and Deep Water Ocean Outfall, the testing is critical to the hydrodynamic modelling for the project.
Council's Water and Sewerage Services Manager, Jim Collins, said Council is acting on advice from the NSW Environment Protection Authority and also local community concerns, that the existing beach-face outfall at Merimbula STP is not sustainable.
"The information we receive from these tests will show the dispersion rates and travel times of waterborne materials in the bay, and will help our designers determine the best location for the placement of the deep water ocean outfall," Mr Collins said.
"The process will involve Council's consultant hydrologists releasing a harmless, bright red fluorescent dye called Rhodamine into the water at up to four locations in the Bay, including Haycock Point (east and north) and Merimbula Embayment.
"The exact timing of the testing is dependent on weather and ocean conditions; however Merimbula Bay will be open and safe for all water users during the tests.
"Rhodamine, which will disperse rapidly, follows the pathways of currents closely and has a low impact on water quality. It will be used to measure how long it takes the currents to move water between predetermined sampling sites, with the testing set to take a few hours in each location," Mr Collins said.
The project is in the very early stages. In the coming weeks a website will be launched to provide more information on the project and how the community will be able to provide feedback and get involved.
Any queries should be directed to Council on (02) 6499 2222.
Photograph: Merimbula Bay looking south towards Pambula Beach and Haycock Point with the Pambula Merimbula Golf Course and Merimbula Sewage Treatment Plant in the foreground.
END
Scroll down to Like | Share | Comment on this page
Related Pages
Dye Testing in Merimbula Bay
---
Rate This Page
---
Share This Page
---