NAIDOC Week moved to 8-15 November

3 July 2020
Bega Valley Shire Council acknowledges that during a 'normal' year, we would be celebrating the start of NAIDOC Week on Sunday 5 July.
However, the National NAIDOC Committee has wisely moved NAIDOC Week to 8-15 November, "to protect our elders and those in our communities with chronic health issues from the disastrous impacts of COVID-19".
Mayor Sharon Tapscott said under our Memorandum of Understanding with the Eden, Bega and Merrimans Local Aboriginal Land Councils, we are committed to celebrating appropriate Aboriginal ceremonies and events, including Reconciliation and NAIDOC Weeks.
"We have consulted with the Local Aboriginal Land Councils and we agree we can still acknowledge the original dates, but in a COVID-19 friendly manner – online," she said.
"In the lead-up to NAIDOC Week from 8 to 15 November, we will again consult the Land Councils on suitable activities that reflect and underpin the theme for this year, which is Always Was, Always Will Be."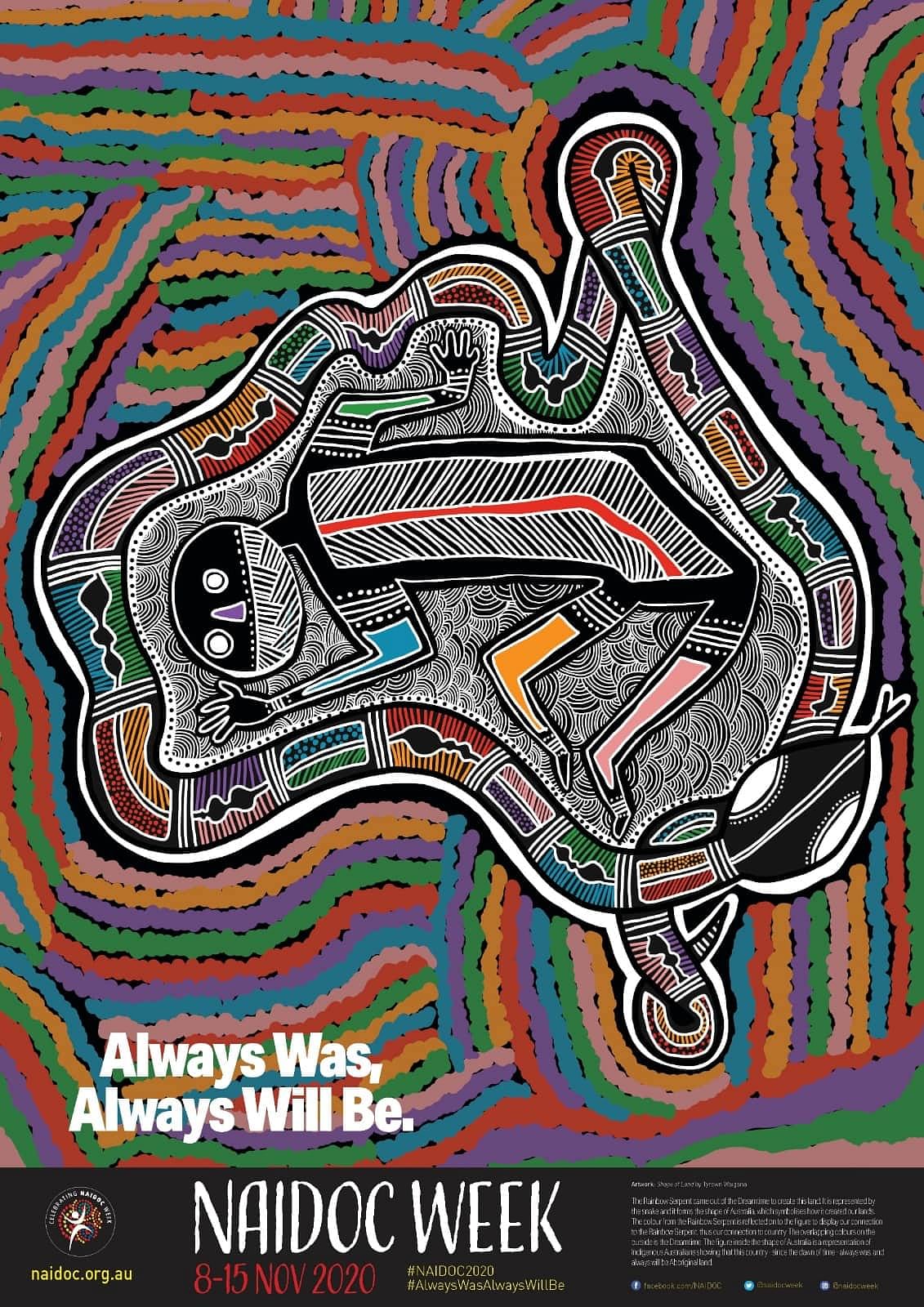 The National NAIDOC Committee has also announced the winner of the prestigious National NAIDOC Poster Competition.
Perth based artist and designer, Tyrown Waigana's winning entry, Shape of Land, was considered to best illustrate this year's theme.
Mr Waigana, a proud Noongar and Saibai Islander, has previously been named as one of WA's best new and emerging Indigenous artists. According to the artist, his winning entry depicts the Rainbow Serpent coming out of the Dreamtime to create this country and how we are strongly connected to it.
The National NAIDOC Committee understands that the original July dates for NAIDOC Week may still be acknowledged by some communities and organisations, and strongly encourages safe COVID-19 practices to continue to protect the most susceptible in our communities.
RIGHT: Winning NAIDOC Week 2020 poster by Perth-based artist, Tyrown Waigana
---
Rate This Page
---
Share This Page