Organics bins to be replaced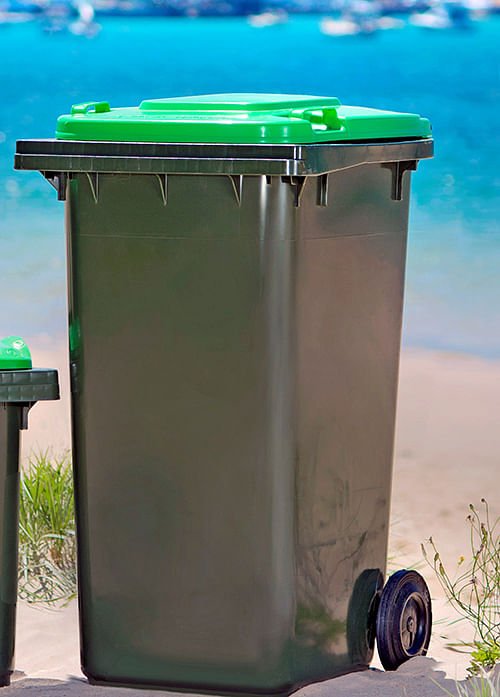 25 January 2018
Bega Valley Shire Council is taking its first step towards the exciting FOGO waste collection that will launch later this year.
Although the Food Organics and Garden Organics (FOGO) household pick-up will not start until the second half of 2018, in the coming weeks some residents who have a green bin will start to take delivery of new bins.
Waste contractors will replace existing garden organics bins from 29 January. The bins are being replaced to ensure the overall stock is maintained in good order at the lowest cost. Most of the garden organics bins were distributed in 2005 and 2006 and are due for replacement. They will go on to have longer lives yet, by being recycled into new bins.
Towns affected by this are Merimbula, Bega, Tura Beach, Tathra, Eden, Wolumla, Kalaru, Pambula and Candelo. The green organics bins in Bermagui, Cobargo, Quaama and Wallaga Lake are not being replaced at this stage.
We are asking residents in the affected towns to please:
• Present your garden organics bin for collection on the scheduled garden organics bin night, even if the bin is not full.
• Leave your bin out until it is emptied by the garbage truck, retrieved, and replaced.
• Ask your neighbour if they can put your garden organics bin out if you will be away.
From 29 January, the replacement team will be following garbage trucks, so it is important that residents don't retrieve their bins until they are replaced.
For further information please contact Council on 6499 2222 or keep an eye on Facebook via https://www.facebook.com/BegaValleyWasteandRecycling/
Please note that a green bin collection service is only available in towns and as such, the new FOGO collection service will only affect those who currently have a green bin collection service. The Council will keep residents informed about when FOGO is starting. For the most current information you can visit Council's Waste Services website www.begavalley.nsw.gov.au/waste
END
Related Pages
Organics bins to be replaced
---
Rate This Page
---
Share This Page