Unauthorised clearing at Tura Head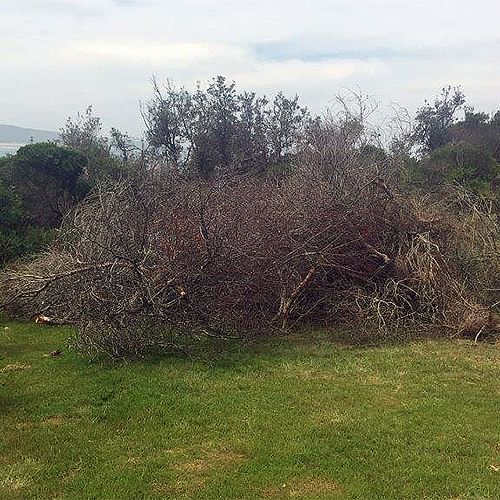 20 December 2017
Bega Valley Shire Council is disappointed a community group has cleared areas of native vegetation (mostly dead timber - which is still considered native vegetation and has value in the local ecosystem) from the Tura Head Coastal Reserve without consent or endorsement.
The Tura Head Coastal Reserve is largely Council owned and managed land that is part of a continuous stretch of native vegetation from Bournda National Park in the north, along the Tura Beach coastal strip and down to Short Point in Merimbula.
Council welcomes the opportunity to work with volunteer groups and values their input however there are still important procedures that have to be followed.
To ensure the health and safety of volunteers and ensure that works comply with agreed plans and strategies, all groups that undertake work on Council owned or managed land must be formally inducted as volunteers of Council.
Community workshops held recently identified a strong desire by many Tura Beach residents to get involved in improving the Coastal Reserve. This unauthorised clearing doesn't recognise the greater interest in this Reserve.
This incident is currently being investigated by Council's compliance team. Non-compliance with local and state legislation could lead to on the spot fines, local court, or the Land and Environment Court, depending on the severity of the case at hand.
Council's Director of Community, Relations and Leisure, Anthony Basford, said Council appreciates the contribution that volunteers make to managing and maintaining our recreational and natural areas.
"Council has over 40 volunteer groups registered with Council to undertake works on a myriad of community assets," Mr Basford said.
"These include halls and cemeteries, recreational and natural areas and libraries, as well as advisory committees. The combined contribution the groups make to improving Council's community assets is in excess of $1million.
"That is a substantial contribution by the community for the community and greatly appreciated, however it is essential everyone is working towards agreed outcomes.
"Any groups or individuals interested in working with Council to manage and/or maintain our community assets are encouraged to contact Council," Mr Basford said.
For all direct enquiries in relation to the clearing of vegetation at Tura Head Coastal Reserve, please contact Council's Vegetation Management team on 6499 2222.
Photograph: Stockpile of vegetative material piled up by the Tura community group.
END
---
Rate This Page
---
Share This Page