Council recognised at Local Government NSW Awards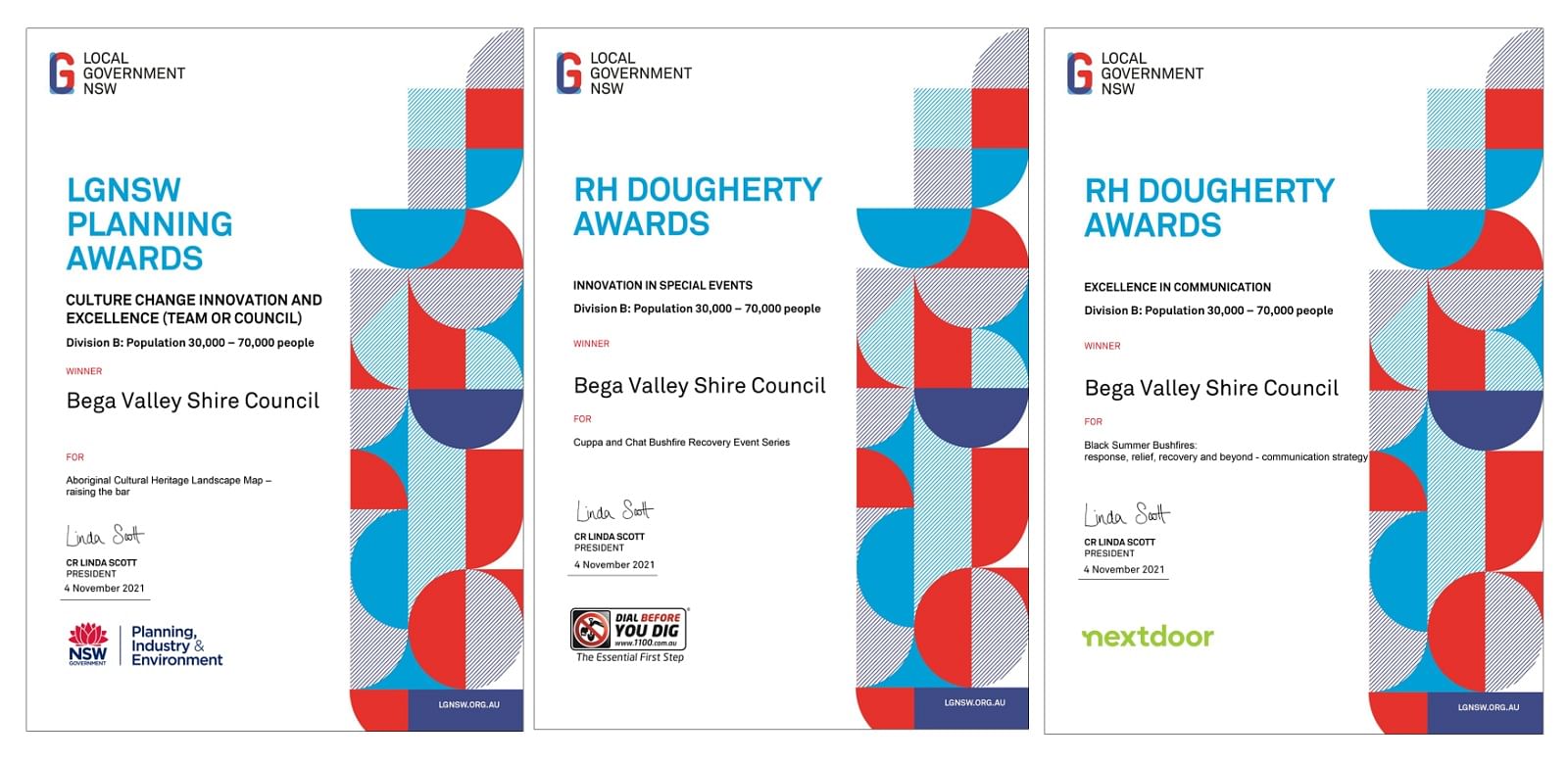 4 November 2021
Bega Valley Shire Council has taken out three awards at this year's Local Government Week Awards.
The annual awards, hosted by Local Government NSW, recognise the outstanding and innovative contributions that councils make to their communities across four categories.
Council was a finalist for three projects across two of the categories, winning awards for Innovation in Special Events, Culture Change Innovation and Excellence in Planning, and Excellence in Communication.
Acting CEO Anthony McMahon said the awards highlighted not only the dedication and commitment of staff, but also the progress that can be made when Council and the community work together.
"The Innovation in Special Events Award recognises the effectiveness of the Cuppa and Chat sessions that were held across the shire following the Black Summer bushfires," Mr McMahon said.
"These sessions were aimed at meeting the community where they lived; bringing the information and support our communities needed, to them.
"Importantly, this award reflects how genuine collaboration between agencies, volunteers and Council can have such a positive impact on the community. I'd like to thank the CREW—the Community Recovery and Engagement Working Group—for their dedication and commitment to supporting the community and working with Council to support bushfire recovery across the shire. This award, and more importantly the Cuppa and Chat sessions themselves, would not have been possible without them.
"Council was also recognised for Excellence in Communication, both during the Black Summer bushfire emergency and throughout the recovery journey. Our staff worked around the clock to lead emergency communication through the local Emergency Operations Centre, before pivoting to support recovery more broadly.
"Our planning team was also recognised, taking out the LGNSW Planning Award for Culture Change Innovation and Excellence, for their work developing an Aboriginal cultural heritage landscape map for the shire, in collaboration with the Bega, Eden and Merrimans Local Aboriginal Land Councils.
"The map identifies parts of the landscape that have a high probability of Aboriginal cultural heritage values and is used to better inform due diligence assessment by private landowners, Council and contractors.
"Importantly this project has helped improve the protection of land with cultural significance to local Aboriginal people and the broader community of the Bega Valley Shire."
Bega Valley Shire Mayor, Cr Russell Fitzpatrick congratulated staff and thanked the community for their proactive approach in working with Council.
"These awards recognise not only the commitment and calibre of Council staff, but also the willingness of other agencies, volunteers and the broader community to partner with Council to support the community," Cr Fitzpatrick said.
"Many Council staff were personally impacted by the fires, but they stepped up and gave their all to support the community."
The four Local Government Week Award categories are:
The RH Dougherty Awards for innovation in communication and events
The Leo Kelly OAM Arts and Culture Awards
The LGNSW Planning Awards sponsored by the Department of Planning, Industry and Environment
The Department of Communities and Justice (DCJ) Youth Week Awards.
END
---
Rate This Page
---
Share This Page