Flood study moves into survey phase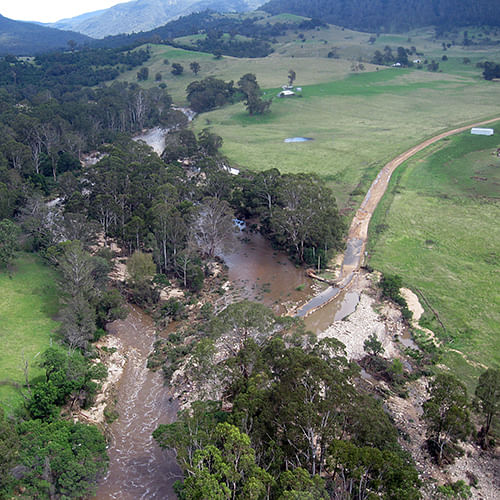 15 May 2018
The flood study for Eden, Twofold Bay and the Towamba River has moved into the next phase, with survey work around select areas of Eden and the foreshores along Twofold Bay now largely complete.
Featuring both topographic and drone methods, the surveying work is focussed on collecting physical marks identified through a recent community survey and in historical data.
Rhelm (Council's flood study consultant), has now engaged a local survey firm, Veris, to undertake the survey activities in the upper Towamba River catchment.
Council's Asset Management Coordinator, Gary Louie, said localities around Wyndham, Towamba, New Buildings and Rocky Hall are being surveyed for not only general terrain to determine the river channel shape, but also to ascertain specific levels from the identified flood marks.
"Importantly the data gathered will allow Rhelm to develop the terrain models in specific areas to in turn model the existing and predicted flood behaviour of the Towamba River," Mr Louie said.
"The levels taken from flood marks will then be used to calibrate the computer models to 'real world' information and validate the results for not only the Towamba River, but also Twofold Bay and Lake Curalo.
"The nature of the work is such that private property access may be required in some locations in order for creeks, river channels and certain bridge structures to be properly investigated.
"Impacted property owners will be informed both in person, through a 'door knock', and via written correspondence and following the terrific level of information provided by the community in the initial data collection phase we would greatly appreciate if the wonderful assistance continued," Mr Louie said.
The study seeks to define the current and future flood behaviour of the catchment for communities along the Towamba River and ocean storms impacting Eden, Boydtown and Twofold Bay, with the overall objective to allow Council to make informed decisions on the best way to invest in flood mitigation and better manage the risks posed by floods.
While it is primarily looking to reduce property and public risks, this work will also provide essential information to agencies such as the State Emergency Service and enable effective responses to flood emergencies.
Council is also calling for expressions of interest for representatives on the Floodplain Risk Management Focus Group – anyone interested in taking part is asked to contact Council before 25 May 2018.
For further information, contact Gary Louie on (02) 6499 2222 or Rhelm's project manager, Emma Maratea, on 0403 297 298.
Council wishes to acknowledge the financial and technical assistance being provided by the NSW Government Floodplain Management Program through the NSW Office of Environment and Heritage and the Minister for Police and Emergency Services.
Photograph: The Stockyard Bridge at Rocky Hall was washed away by floodwaters.
END
---
Rate This Page
---
Share This Page