Community thanked for help with flood modelling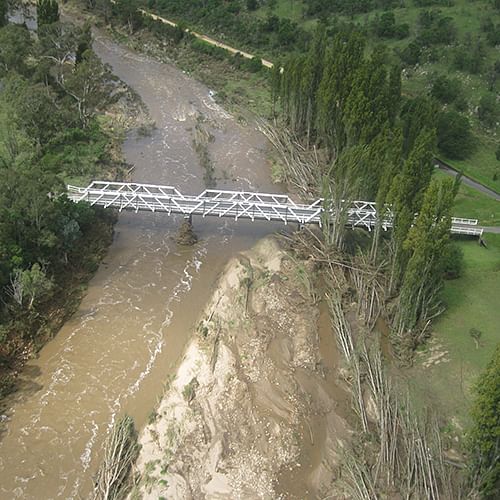 16 November 2018
Historical rainfall information contributed by local communities has proved invaluable to developing flood models for Eden, Twofold Bay and the Towamba River with this information feeding into an important flood study currently being prepared by Council.
The aim of the flood study is to define the current and future flood behaviour of the catchment for communities along the Towamba River and to determine the impact of ocean storms on Eden, Boydtown and Twofold Bay.
Asset Management Coordinator, Gary Louie, said that the main study objective is to allow Council to make informed decisions on the best way to invest in flood mitigation and better manage the risks to the community posed by floods.
"This work will also provide essential information to agencies such as the State Emergency Service and enable effective responses to flood emergencies," he said.
The historical data was gathered at a series of community drop-in sessions in Eden and Towamba throughout December 2017 and allowed surveyors to confirm the location and level of rainfall observations in the field.
"I'd like to thank those people who came along to the sessions and shared their knowledge and data with us.
"Contributions from local people helped to make sure that the flood models accurately represented what really happened during past floods," said Mr Louie.
Project staff developed the flood models based on data from a topographic survey of the study area, an aerial laser survey by Council in 2008, flow and rainfall gauge data as well as a survey of flood marks observed by the community.
The flood models have been used to assess the Towamba River floods of 1978 and 2011, and March 2012 and June 2016 Lake Curalo floods using rainfall, flow and ocean data.
"The flood model results matched well with observations and recorded data," added Mr Louie.
Flood data was collected across a range of other flood events but rainfall and flow data were not available for these events so it hasn't been possible to do detailed flood modelling for these events.
However, the observations were still useful for comparison against estimated modelling for these events.
"There are a lot of steps along the way to developing an accurate Flood Study and now we're working towards having a draft document on public exhibition and comment in mid-2019," explained Mr Louie.
For further information, contact Gary Louie on (02) 6499 2222 or visit Council's website at www.begavalley.nsw.gov.au and click on Environment and Health.
Council acknowledges the financial and technical assistance being provided by the NSW Government Floodplain Management Program through the NSW Office of Environment and Heritage and the Minister for Police and Emergency Services.
Photograph: Towamba River at New Buildings Road.
Related Pages
Community thanked for help with flood modelling
---
Rate This Page
---
Share This Page