Tathra pitches in to restore footbridge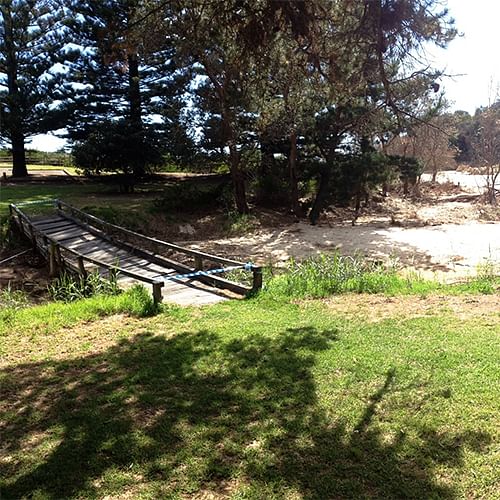 Thursday 25 May 2017
Members of the Tathra community have come together in a bid to restore the Thatchers Flat footbridge destroyed during last year's East Coast low.
In a community consultation held in January this year, Council asked local residents if they would prefer $50,000 allocated to repair the bridge to be spent on other local projects.
The community voted to spend the funds on establishing a detailed plan for the proposed Tathra Headland walking track.
Council's Place Based Officer for the Tathra area, Emma Stewart said the consultation also revealed a strong community interest in restoring the footbridge by forming a volunteers group tasked with fundraising.
"Many in the Tathra community have spoken up for restoring the Thatchers Flat footbridge so Council is now working with these residents by helping them to form a project group," she said.
"The first step is to open applications to join the group and to outline the roles and responsibilities of the members.
"As a group they will collaborate with key stakeholders to project manage the renewal of Thatchers Flat footbridge working within Council's guidelines.
"Council will assist in establishing the group and working with members by providing direction on engineering and design, and advice on materials, costs and required maintenance schedules.
"The project group will source resources and finances associated with the project.
"This is a great example of a community working together with Council to achieve a desired outcome," Ms Stewart said.
Applications to join the Thatchers Flat Project Group will be open until 5pm on Friday 16 June. An application form can be downloaded from Council's website. The group will have a maximum of ten members.
For more information please call Bega Valley Shire council on 6499 2222.
Photograph: The Thatchers Flat footbridge after being hit by the East Coast low in June.
END
---
Rate This Page
---
Share This Page