Small businesses should register with Service NSW for one-on-one help
17 February 2020
The support available to the local business community was the topic of two NSW Government small business bushfire assistance meetings held in Bega and Eden last week.
Those attending heard from representatives from the Bega Valley Shire Council, the NSW Small Business Commissioner's office, Business Connect, Vocational Education & Training, Rural Assistance Authority, the ATO and Red Cross.
Each representative spoke on what help was available to businesses affected by the bushfires and then answered questions from the floor. The key issues raised at these meetings were around immediate financial support, training, local procurement opportunities and the clean-up process.
Further meetings will be held for small business owners in Bermagui and Tathra this week (see below for details).
The key takeout from these meetings is for business owners to register with the Service NSW (www.service.nsw.gov.au), whether you were directly or indirectly affected.
When you register, a Case Manager who knows what business support is available across all levels of government will be allocated to you and can take you through the recovery process step-by-step.
Case Managers can help:
replace personal and business documents (eg licences, permits, certificates);
take you through the financial support that might be available to you (eg grant, loan, allowance);
connect you with free local business advisors;
fill out forms and reduce your paperwork; and
provide information for employees about allowances and the help available to them.
Service NSW also has Mobile Service Centres that are travelling around our Shire and the other bushfire affected areas, providing services to impacted communities.
A particularly useful resource is the NSW Small Business Commission's guide to recovering from a disaster, Getting back to business.
The guide contains five phases of disaster recovery - from the moment the disaster has hit, to the actions you can take over the days, weeks and months ahead.
There are action checklists for each phase of recovery, case studies (including businesses affected by the 2018 Tathra bushfires) and a directory of links and resources for emergency services and other agencies with a small business recovery focus.
Small Business Bushfire Assistance meetings
Wednesday 19 February – Bermagui Country Club – 6-8pm
Thursday 20 February – Tathra Beach Bowling Club – 6-8pm
Photograph: Kylie Bryden-Smith from the office of the NSW Small Business Commissioner speaks to business owners at the Bega Small Business Bushfire Assistance meeting last week.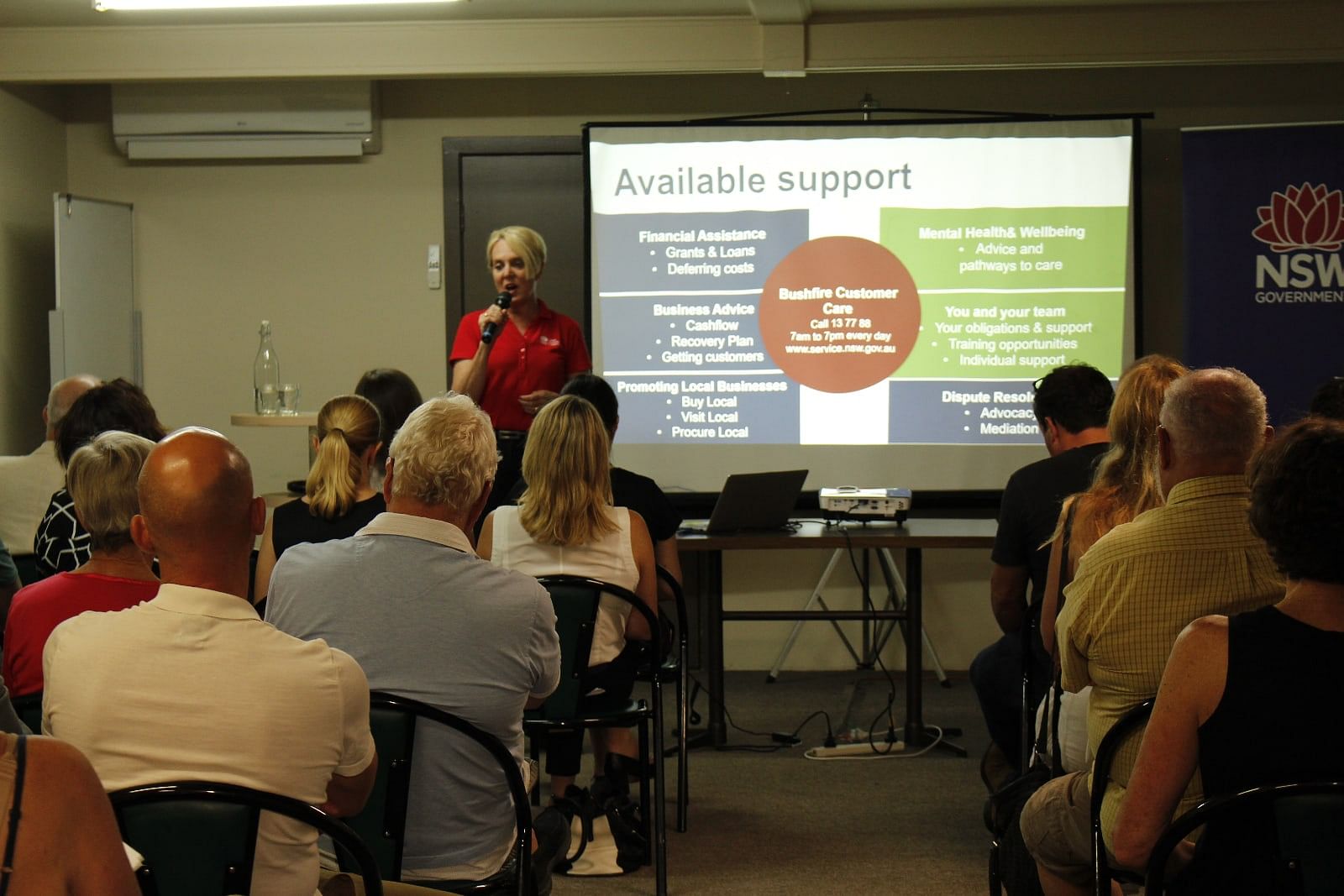 Related Pages
Small businesses should register with Service NSW for one-on-one help
---
Rate This Page
---
Share This Page