Synth Surfers festival develops local skills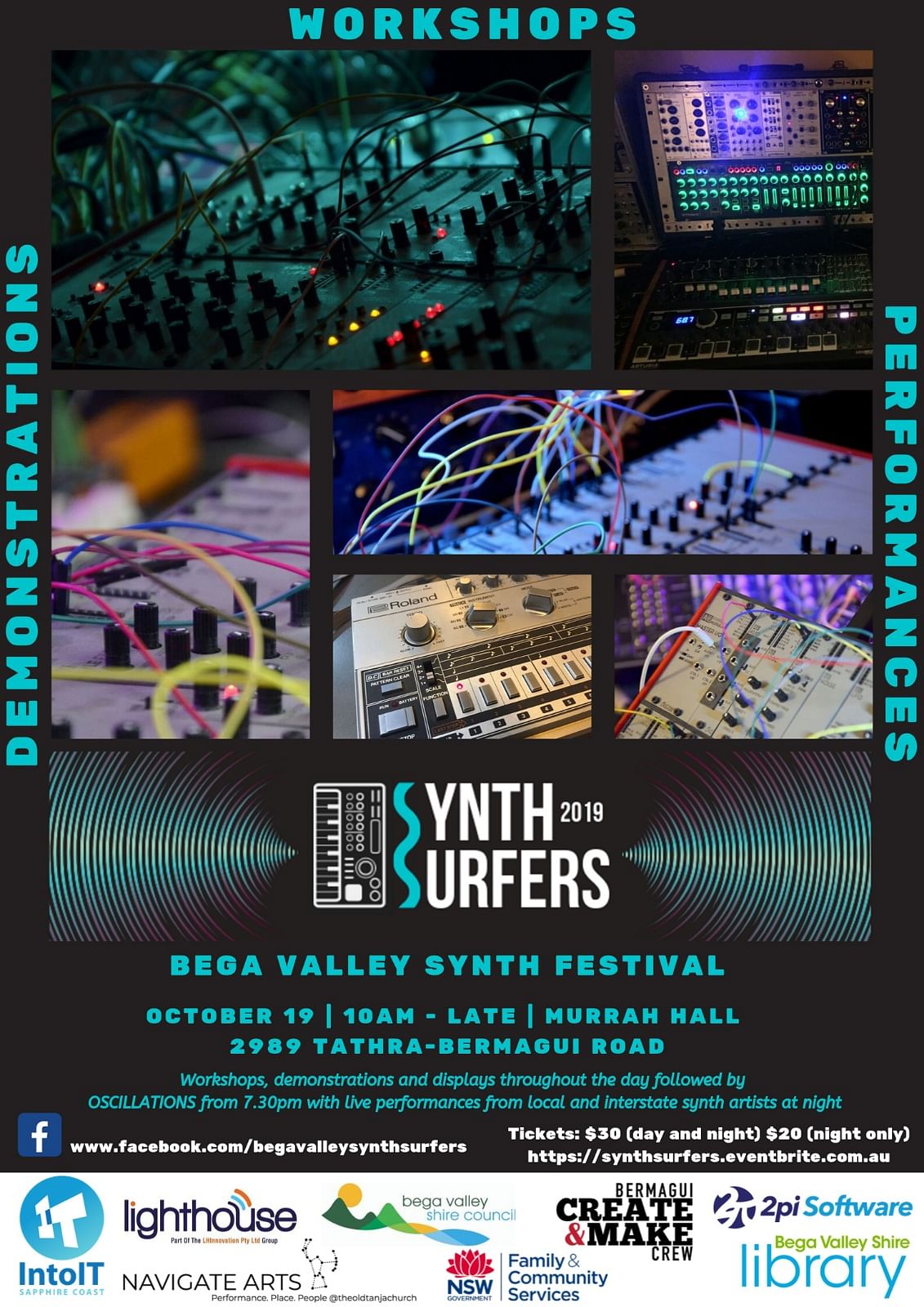 14 October 2019
Fanatics, beginners and everyone in between will gather at the Murrah Hall from 10.00am this Saturday 19 October for Synth Surfers, the Bega Valley's very first synth festival.
See, hear and try cutting edge music technology, talk directly to synth manufacturers and musicians and synth your day into the night with a special after-dark performance, called Oscillations that will feature interstate and local musicians as well as modified toy instruments and a trumpet!
Library Programs and Partnerships Officer, Scott Baker, says that through this event Council is providing locals access to a metropolitan-style event combining technology and creativity, as well as supporting the development of local skills infrastructure through the Bermi Create & Make Crew project.
"This means that locals will have the skills, experience and networks to run their own successful events; it's about capacity building for our future as a destination and liveable place.
"Synthesisers have featured in bands since the 1960s and they're having a revival using basic ingredients called electronic wave forms.
"People coming along will be surprised at the broad applications of synthesisers today which are pushing the boundaries of what music is," Mr Baker explained.
The Crew consists of ten young people who are completing nationally credited TAFE units which are embedded holistically into the project.
"Parklight and now the Synth Surfers event are learning milestones for this group of young people and I wholeheartedly congratulate the broader community for coming out and supporting them.
"Synth Surfers will give the Crew experience in running a quality professional and comprehensive, ticketed event, which will further develop their employability skills in project and event management, promotion, workshop facilitation, artist liaison and graphic design," Mr Baker says.
Workshops are a key element of Synth Surfers and are designed so that complete beginners will learn side by side with more experienced users, who will be able to expand their skills under the guidance of specialist facilitators.
Aimed at all ages, from eight years up, the workshops will include getting started with a limited budget, controlling your lasers from a synthesiser, building your own synthesiser, Ableton Live, and using free modular synthesiser software (VCV Rack).
Detailed program information and tickets are available at https://synthsurfers.eventbrite.com with various ticketing options. Bookings are essential for workshops and you must buy at least a day ticket.
Refreshments and catering will be available during the entire event.
Synth Surfers is brought to the Shire by the Bega Valley Synth Club, Bega Valley Shire Library, 2Pi Software and IntoIT.
The Bermi Create & Make crew is a Bega Valley Shire Library program funded through a Youth Opportunities Grant from NSW Family and Community Services.
More information about Synth Surfers festival and the Bermi Create & Make Crew is available from Scott Baker on (02) 6499 2172.
Photograph: Synth Surfers festival poster.
END
Related Pages
Synth Surfers festival develops local skills
---
Rate This Page
---
Share This Page