Medallions recognise work of volunteers
Wednesday 30 September 2015
The efforts and contribution of 11 Shire residents were recognised with the presentation of the Bega Valley Shire Community Service Medallion this week.
The 2015 Medallions and citations were presented by Mayor Michael Britten at a ceremony at the Bega Country Club on Wednesday to Marge Snijder, Alan Simpson, Brian Richards, Eileen Cameron, Ian Battersby, Jan Ireland, Robert Graham, Val Little, Allen Collins, Judi Hearn and Ted McKeown.
Gae Rheinberger was also selected for a medallion but was unable to attend Wednesday's ceremony so will receive it at a later date.
Cr Britten said the Medallion recognised the outstanding work of the many unsung volunteers across our community.
"One of our great strengths as a community is the effort given in supporting others," he said.
"We have literally hundreds of people in our community who are prepared to give their time to ensure the welfare of others.
"Through the Shire medallion, we have a way to acknowledge this work and to say thank you to those volunteers."
Cr Britten said the 2015 recipients came from communities across the Shire – from Bermagui to Eden – and their contributions were varied, ranging from the arts to promoting tourism, to dedicating a lifetime to sport.
"Some of our recipients have made their contributions to community organisations and committees or by helping out individuals by using their skills or experience."
He encouraged individuals and organisations to nominate outstanding volunteers for the Bega Valley Shire Community Service Medallion and for the other awards conducted by Council such as Citizen of the Year, Young Citizen of the Year and Senior Citizen of the Year as a way of recognising and thanking them for their contribution to the various towns and villages of the Shire.
To read the citations for the 2015 Medallion recipients go to www.begavalley.nsw.gov.au and search for 'Community Service Medallion'.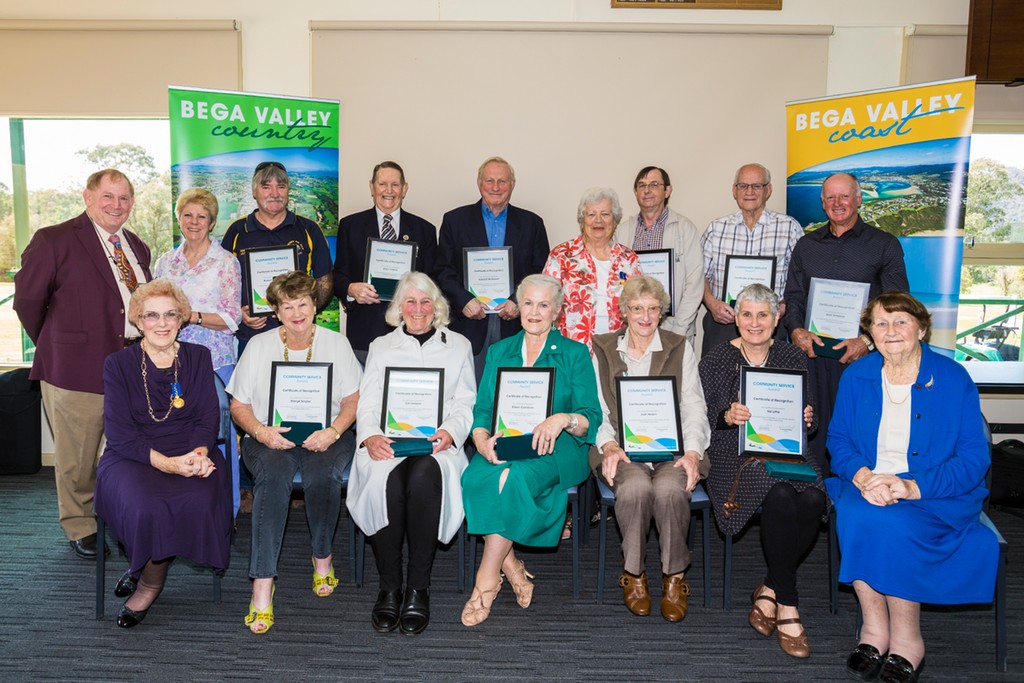 Photograph: Medallion recipients and committee members at Wednesday's presentation. They are (back from left) Mayor Michael Britten, Lori Hammerton (committee), Robert Graham, Allen Collins, Ted McKeown, Edna Duncanson (committee), Ian Battersby, Brian Richards and Alan Simpson. (Front) Mary Cocks (committee), Marge Snijder, Jan Ireland, Eileen Cameron, Judi Hearn, Val Little and Norma Allen (committee).
END
---
Rate This Page
---
Share This Page