Birding at Bandara
Wednesday 19 August 2015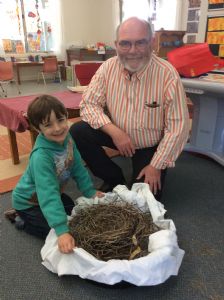 The Preschool students of Bandara Children's Services in Bega, welcomed a visit from Hayden Kingston of the Far South Coast Birdwatchers Inc. to talk to the children about the different species of birds they may find visiting their preschool.
Mr Kingston showed the children a variety of nests and eggs belonging to birds such as the Red Browed Firetail, the Eastern Yellow Robin and the Magpie.
The pre-schoolers began their exploration into birdwatching when they built a native animal nest box as an extension on the children's great interest in woodwork.
"After we finished building the nest box we wanted to find out how to go about bringing birds into the yard to hopefully nest inside," Early Childhood Teacher, Daryl Kelland said.
"I contacted the Far South Coast Birdwatcher club who were great, they gave some really good advice about which birds to look for in Bega and sent the children a copy of their book."
Mr Kelland said the children together with the educators have documented the different bird species they have seen at the Preschool/Long day care centre and at home on an impressive wall chart, using the Far South Coast Birdwatcher's book to identify which bird they have spotted.
"It's been amazing how each day the children are excited to share their findings with the whole class" something Mr Kelland went on to say is great for the child's confidence and sense of being.
Building these types of connections with the community is important to help children understand who they are and who they can become.
The children were intrigued by the nests Mr Kingston had shown them, investigating the materials used and hypothesised how they would have constructed them.
The children were able to access the centre's Smart board provided by the University of Wollongong to research and watch videos of birds creating nests.
Mr Kinston suggested using native flowering shrubs and fresh water as a way to attract native birds to Bega gardens.
Far South Coast Birdwatchers Inc. who have birdwatching walks twice and month and meet six times a year, can be contacted on 6495 7390 or 6495 6592 or via the club's email fscbirds@bigpond.com.
Photograph: Hayden Kingston shows a nest to Bandara student, Lincoln Morris. The nest inspired the children to create their own from natural materials found in the playground.
END
---
Rate This Page
---
Share This Page