BVRG shows acclaimed Indonesian artists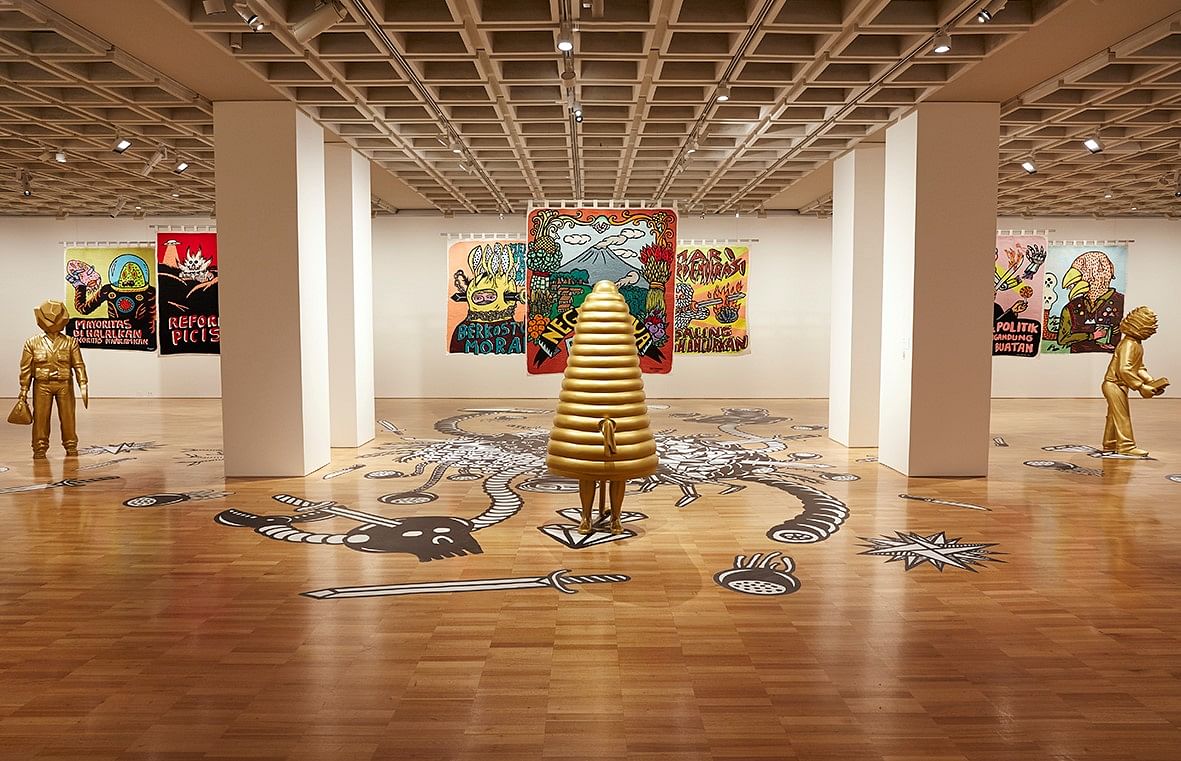 Eko Nugroho, Lot Lost 2013-2015, synthetic polymer paint on fibreglass, manual embroidery rayon thread on fabric, and vinyl, installation dimensions variable. Art Gallery of New South Wales Collection. Purchased with funds provided by the Neilson Foundation and Dr Dick Quan 2015. Image - AGNSW and the artist.
15 September 2020
An exciting exhibition opens Friday 18 September at the Bega Valley Regional Gallery.
Celebrating and examining an evolving conversation with contemporary Indonesian artists, Gangguan Tenggara - Edisi Indonesia brings works from Zico Albaiquni, Eko Nugroho and Leyla Stevens to regional Australia.
Nugroho, whose is regarded as one of the most important contemporary Indonesian artists working today, presents a major installation that has only been exhibited previously in Hong Kong and Sydney.
Working across drawing, painting, sculpture, animation and embroidery, this acclaimed Indonesian artist draws inspiration from Javanese traditions, such as wayang theatre and batik, as well as street art, science fiction, comic books and other forms of popular culture.
New paintings by Zico Albaiquni will be presented in the exhibition, Albaiquni's unusual and intriguing colour palette developed from the tonal formulas of this early tradition. He also references the links between art, advertising, and the commodification of landscape to investigate contemporary environmental issues in Indonesia.
Leyla Stevens is an Australian-Balinese artist and researcher who works predominantly with moving image. Her video work in the exhibition references her Balinese heritage and combines performative and documentary modes of filmmaking to consider the impact of the silenced history of Indonesia's 1965-66 anti-communist killings, in which a reported 80,000 people died in Bali alone.
Curated by BVRG director Iain Dawson, Gangguan Tenggara - Edisi Indonesia (South East disturbance in Bahasa Indonesia) is the fourth and final iteration of the South/East Interference series of award-winning exhibitions presented exclusively at BVRG.
"I'm so proud to present this exhibition to the community. Working with these important international artists highlights the Bega Valley's connection to the South East Asian region. The Bega brand is well known throughout Indonesia, courtesy of our namesake dairy products, I'm excited to build on that awareness and make contemporary art a tool with which we can increase that engagement and conversations."
The exhibition opens to the public Friday 18 September 10am.
The BVRG is open Mon - Fri 10am - 4pm and entry is free.
Visit gallery.begavalley.nsw.gov.au to take an online tour of the exhibition.
---
Rate This Page
---
Share This Page