Major award for compost crew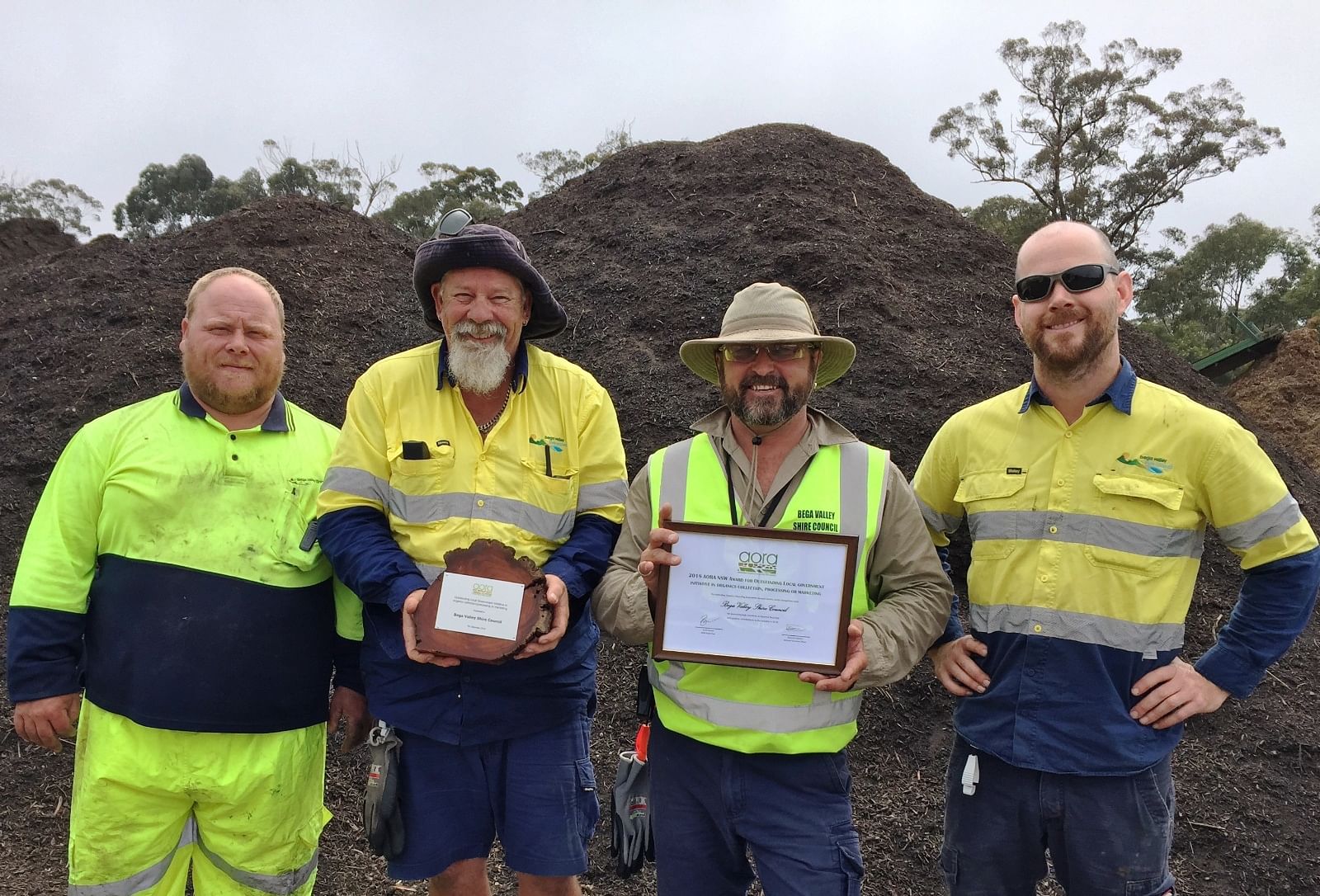 19 December 2018
Bega Valley Shire Council has won a major organics recycling industry award for its composting, introduction to FOGO and commitment to the local community.
The Australian Organics Recycling Association (AORA) awarded Council for outstanding local government initiative in organics collection, processing and marketing at its NSW industry night in Sydney this month.
Award judges congratulated the team at Bega Valley Shire Council on their community-centric approach to composting and their introduction of the FOGO collection and processing service.
"Bega Valley Shire Council's commitment to community engagement and education, their dedication to continual process improvement and the passion of their team on the ground at the Merimbula Organics Processing Facility are a credit to Council and provide an outstanding example for other communities to follow," judges said.
Bega Valley Shire Council General Manager, Leanne Barnes, said the award was a testament to the hard work the waste and recycling team had put into Council's composting facility to achieve the highest possible standards.
"Council is fortunate to have a team of people working in organics processing who genuinely love what they do," she said.
"They have put a lot of energy into communicating openly and collaboratively with the community to help a smooth as possible transition to the FOGO bin collection service.
"This is resulting in some outstanding results, with a decrease of 27 percent in household waste going to landfill in the past six weeks and among the lowest contamination rates in Australia of less than 1%."
Ms Barnes said Council was proud to accept the award on behalf of the Bega Valley community who were helping reach the goals of the 10-year Waste Management and Resource Recovery Strategy (2018-2028) 'Recycling the Future'.
Photograph: The Bega Valley Shire Council compost crew Michael Randall, Glenn Alexander, Mick Yarra and Luke Hamilton are celebrating their recognition at the recent Australian Organics Recycling Association (AORA) Awards.
END
Related Pages
Major award for compost crew
---
Rate This Page
---
Share This Page