A virtual, online celebration planned to thank Bega Valley's volunteers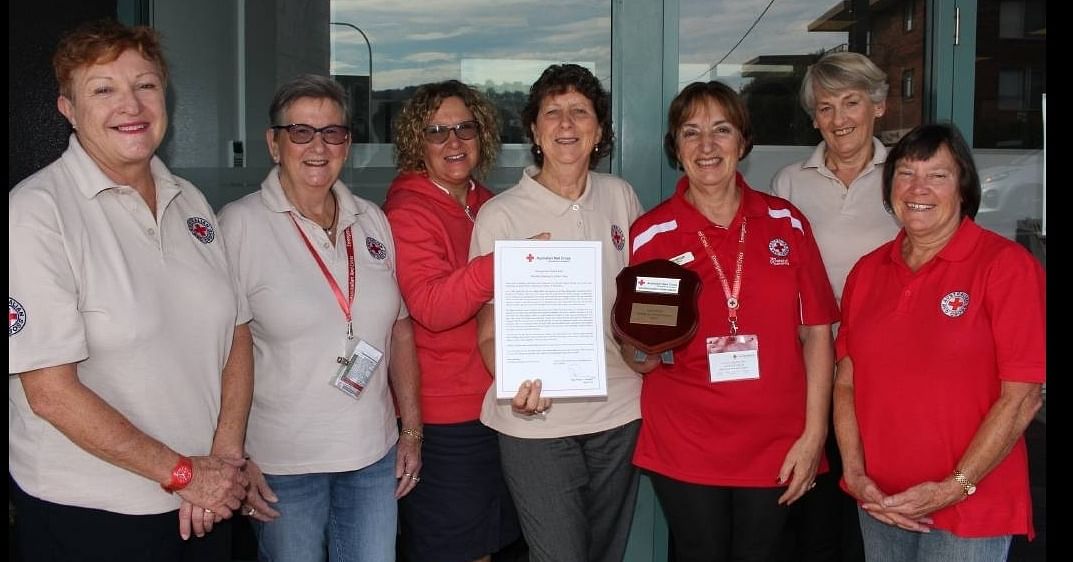 Photo: Mayor Sharon Tapscott is pictured third from the left with her fellow Merimbula Red Cross volunteers
15 May, 2020
National Volunteer Week kicks off on Monday 18 May; a chance to celebrate this year, possibly more than any other, the enormous difference our Bega Valley volunteers make to our lives and our communities.
Mayor Sharon Tapscott said the challenges presented so far in 2020 highlighted the importance of a strong volunteering culture and the Bega Valley can be proud it is a volunteering trailblazer, with the highest rate of volunteering anywhere in New South Wales.
"We certainly punch above our weight when it comes to giving freely of our time, with over 300 volunteer organisations based right here in the Valley. And they have been vital in the past few months, perhaps more than we could ever have imagined," she said..
"The theme of National Volunteer Week this year is Changing Communities. Changing Lives and there's no doubt our local volunteers have been there for us, not only helping shape our communities and improve the quality of our lives but supporting us as we have navigated through enormous change, devastation and despair."
Cr Tapscott said the volunteer contributions made on behalf of our community already this year had been exceptional; ranging from the work done by formal organisations right through to individuals looking out for one another.
"Our volunteers deserve enormous respect and acknowledgement for what they do. That's why this year, given that we're unable to hold celebratory events in the Shire, we're saluting all volunteers with a virtual, online Thank You card, and sharing photos and stories on social media about what our volunteers mean to us," Cr Tapscott said.
"We're also encouraging anyone thinking of volunteering to go to our Community Directory on our website at and connect with one of the many local volunteer organisations listed.
"Personally, volunteering in this community has been one of the most rewarding and humbling experiences of my life so I encourage everyone to get involved where you can.
"There are some really heart-warming stories out there; random acts of kindness such as checking on neighbours or paying it forward by donating a free takeaway coffee in a local café.
"It's this kind of informal volunteering that will get us through this tough time and absolutely makes a real difference to how we can grow stronger from the challenges we face.
"I really believe that people in need feel most comfortable being supported by those they recognise as being part of their community. It's about having confidence in a person you know. When you can see the on-the-ground benefits, that's when volunteering is most rewarding."
Cr Tapscott encourages the community to get involved by signing the online Thank You card on Council's website , sharing their appreciation with photos on Facebook and Instagram and joining the conversation with Council's 3 O'Clock Conversations on Facebook.
"We're using two hashtags for our social media campaign so that we can capture all the wonderful images and stories.
"Please include #thankyouBVSvolunteers and #NVW2020 with your posts, set them to public and join me in a big heartfelt thank you to all our volunteers for their skills, compassion and dedication this week and every week!"
Related Pages
A virtual, online celebration planned to thank Bega Valley's volunteers
---
Rate This Page
---
Share This Page