First QantasLink flight arrives in Merimbula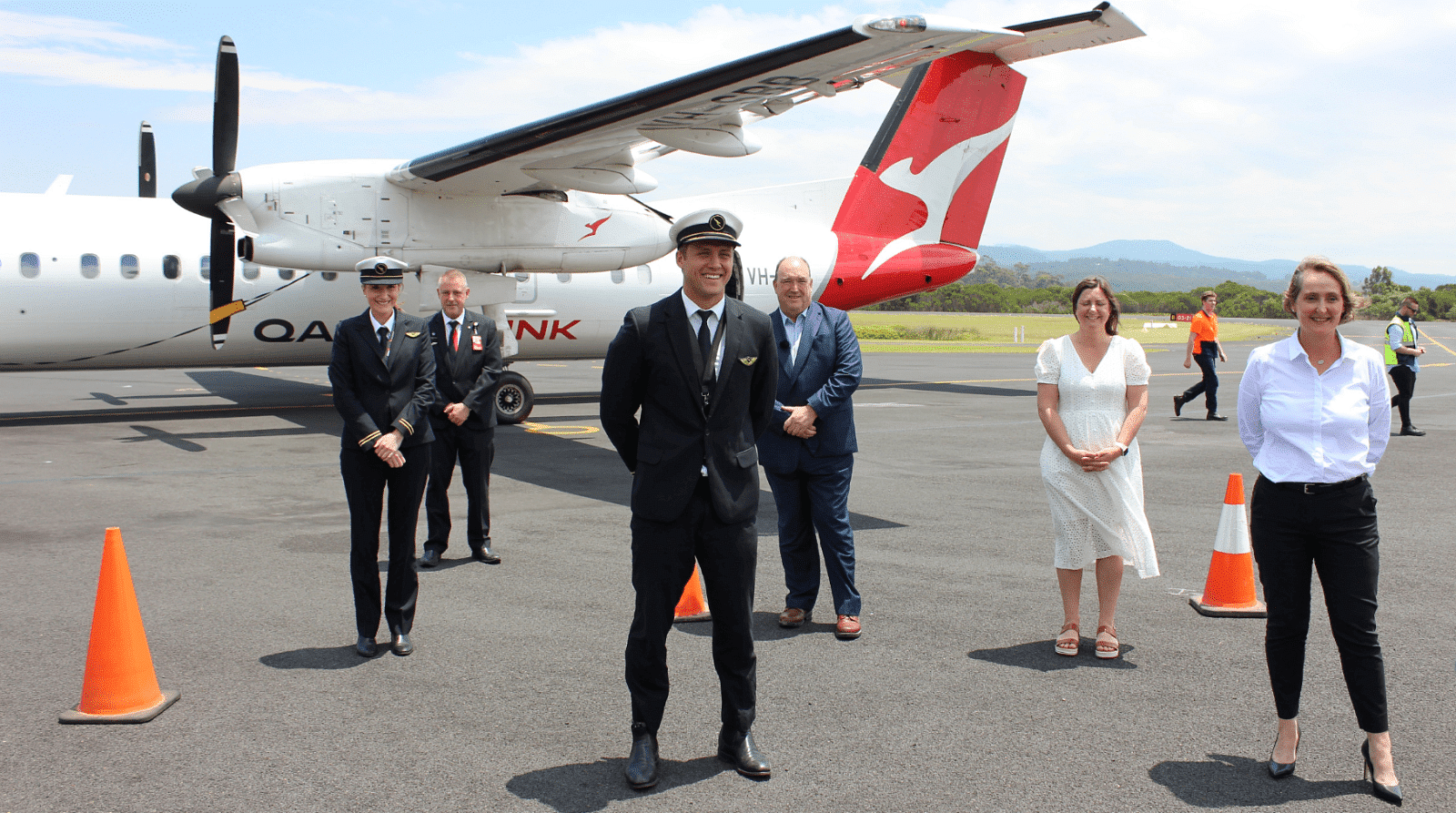 Qantas flight crew with Mayor Fitzpatrick, Member for Eden-Mondaro, Kristy McBain and Qantas Group CFO, Vanessa Hudson
18 December 2020
Bega Valley Shire Mayor, Russell Fitzpatrick has thanked Qantas Airways for bringing increased passenger services to Merimbula airport.
The Mayor's thanks came as the community welcomed the first QantasLink passengers to the upgraded Merimbula airport terminal.
Councillor Fitzpatrick said the local community had been supportive of Council's move to upgrade terminal services at Merimbula airport in preparation for attracting additional passenger services.
"This has long been our goal, to prepare airport infrastructure for increased passenger and freight services," Cr Fitzpatrick said.
"We welcome QantasLink as one of two passenger airlines servicing the needs of business and recreational customers wanting to travel to and from Sydney.
"Increasing passenger services will deliver greater investment to the Shire's business community, which is well timed as it's been a particularly difficult year for local small business owners.
"Having two operators means doubling the exposure we receive through the wide-reaching marketing of two established airlines, as well as doubling options for people wanting to travel to and from Sydney.
"This will very much put what is already a perfect destination firmly on the map of places to visit now and into the future," Cr Fitzpatrick said.
Qantas Group CFO, Vanessa Hudson was among the first passengers to disembark Qantas flight QF 2195.
"As the national carrier, we have an important role to play in helping the industry recover from COVID-19," Ms Hudson said.
"The best way to drive tourism is by making it even easier for Australians to explore incredible places in their own backyard, especially with international borders closed for some time to come.
"This is the first time Qantas has ever offered a direct flight to Merimbula which will mean more competitive fares for passengers.
"These flights will bring more tourists to experience the beautiful beaches and unique wildlife of the Sapphire Coast and also give locals more choice in how they get to Sydney and beyond.
"Ongoing international border closures are fuelling demand for domestic travel. We've seen a strong response from travellers since these flights went on sale and have extended the service to operate through to October next year."
Sapphire Coast Destination Marketing Managing Director, Anthony Osborne said the value of Qantas investing locally will be felt across the Shire.
"As a destination we are super excited to welcome one of Australia's most iconic tourism brands into our region.
"Their confidence in investing in the Sapphire Coast as a destination will lift our visibility enormously, particularly in the high-value Sydney market, and inspire our local industry and businesses to expand their offerings to cater to a new market.
"We look forward to being involved in the myriad of high-value Qantas marketing channels such as Frequent Flyer, hotels and holiday content."
---
Rate This Page
---
Share This Page