Artist in residence exhibition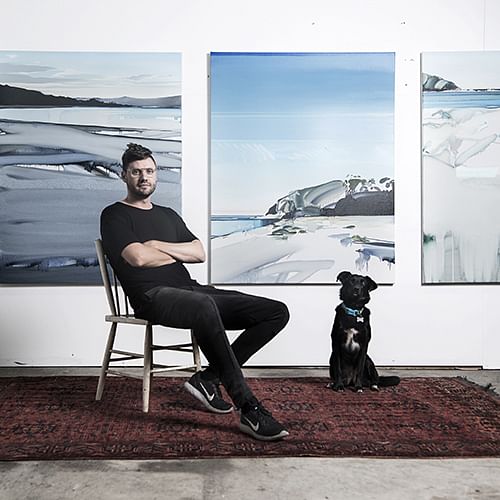 19 February 2018
The work of the Bega Valley Regional Gallery's first artist in residence will take centre stage when Julian Meagher's Inlet Outlet exhibition opens at 6pm on Friday night.
Mr Meagher has been a finalist in the most prestigious awards in Australia, as well as being represented in major galleries in Sydney, Melbourne, Brisbane and Hong Kong.
He has built a strong studio practice in Sydney and exhibits through a number of commercial galleries in Australia and internationally, as well as being a director for the emerging artist generator gallery, Chalk Horse in inner East Sydney.
Bega Valley Regional Gallery Director, Iain Dawson, said the exhibition represents the culmination of the Copyright Agency Cultural Fund Residency.
"The residency represents another key step in the development of the arts in the region and provides the opportunity for visual artists to draw from the unique natural environment of the local region, connect with regional communities and expand their practice outside of metropolitan studios," Mr Dawson said.
"The pilot project has also initiated a strong partnership between the National Parks and Wildlife Service and the BVRG.
"Julian spent time at the beautiful Sir Roy Grounds designed Myer House set on Bithry Inlet in the pristine Mimosa Rocks National Park and Inlet Outlet will showcase the artistic fruits of that stay.
"While the exhibition promises to be a boon for the gallery, excitingly the residency also provided a number of public program opportunities with BVRG partners Tulgeen Disability Services and the Landcare indigenous rangers taking part.
"An exclusive master class for practicing artists was also available, where participants were exposed to new methods and had the opportunity to draw on Meagher's extensive knowledge and expertise," Mr Dawson said.
Inlet Outlet will run from 23 February – 10 March at the Bega Valley Regional Gallery and is supported by National Parks and Wildlife Service, Museums and Galleries NSW and Bega Valley Shire Council.
For more information contact the Bega Valley Regional Gallery on 6499 2187.
Photograph: Julian Meagher in his studio.
Photo Credit : Nick Walker
END
---
Rate This Page
---
Share This Page