ClubGRANTS support community projects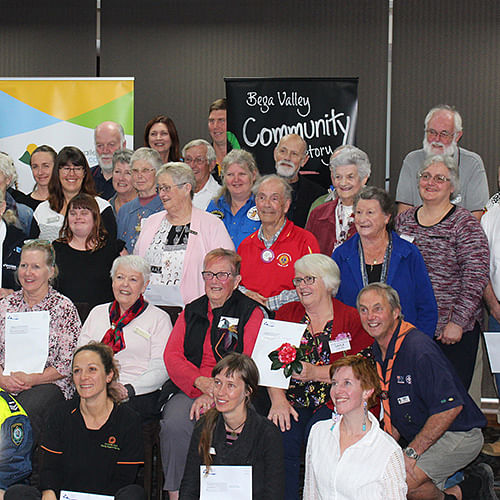 9 August 2019
Funding from the Shire's five local service clubs was awarded at yesterday's Bega Valley ClubGRANTS presentation and means that 38 local community projects get a green light to go ahead.
With the announcement of $101,359 in this year's Category 1 pool, Bega Valley ClubGRANTS have now contributed over $1.4 million to local projects over the last 16 years; projects developed by local people, either in response to a need that they see in their community or maybe just trying to make life better for people they know or come in touch with on a regular basis.
The ClubGRANTS scheme is managed by Bega Valley Shire Council, but it is a shared State Government and club industry program, funded by a gaming machine tax on registered clubs with gaming machine profits in excess of $1 million.
Five local clubs and the Bega Valley Shire Council are represented on the local ClubGRANTS committee – the Bermagui Country Club, Club Bega, Club Sapphire, Eden Fishermen's Recreation Club and the Merimbula RSL.
The acting chairperson of the Bega Valley ClubGRANTS committee, Damien Foley, said funding for the 38 projects will benefit a range of local community activities and consolidate the program's exceptional history.
Some of the organisations and projects funded in 2019 include:
fLiNG Physical Theatre Inc. – youth designed wellbeing workshops and a live performance to explore mental health issues faced by youth in the region.
Women's Resource Centre Bega - workshops for marginalised women targeting physical and mental health.
Social Justice Advocates of the Sapphire Coast – crisis accommodation for the homeless and domestic violence sufferers.
'Mod Box' Eden - community boxing program to get people of all ages active with a particular focus on the physical and mental wellbeing of youth in the community.
A support program for people impacted by suicide loss of a family member, colleague or friend.
Educating senior high school students about road safety to make roads a safer place for all.
Planting a bush tucker garden to educate and engage children with the natural environment.
Photograph: Happy faces representing a number of community organisations at the Bega Valley ClubGRANTS presentation.
END
---
Rate This Page
---
Share This Page