Tulgeen fills DFAT conference bag order in record time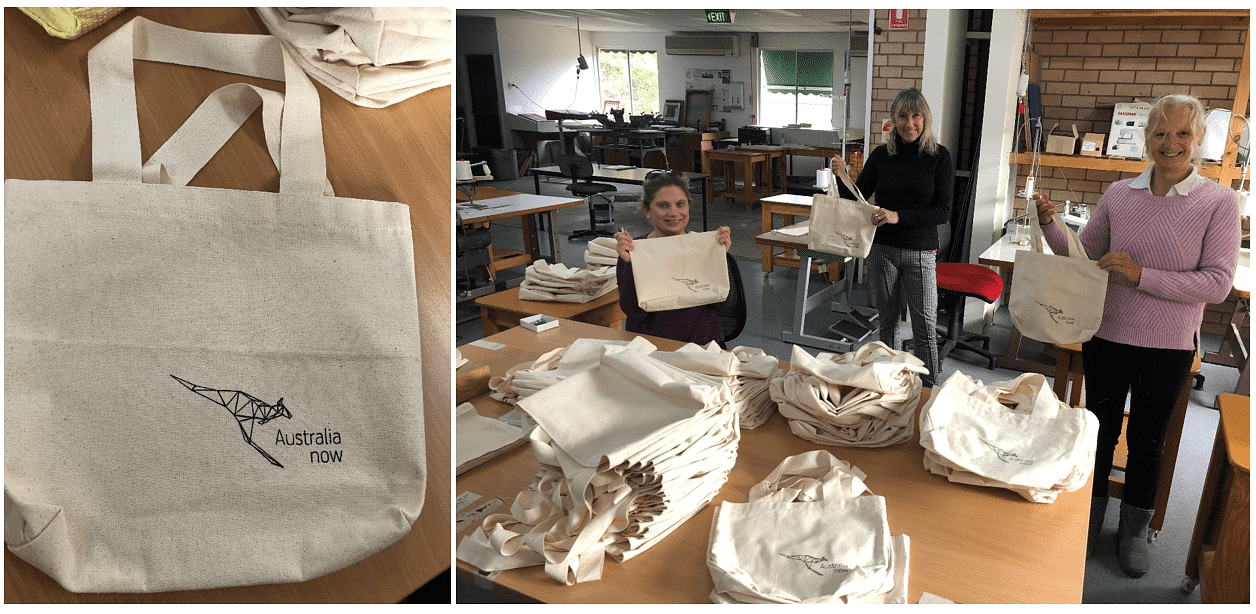 Left: Close up of the DFAT conference bag. Right: Tulgeen employees Natasha, Annie and Sherrie with their DFAT conference bags.
23 June 2020
Despite COVID-19 distancing restrictions, the Tulgeen Group recently produced 150 conference bags in record time for the Department of Foreign Affairs & Trade (DFAT), to be used at an international conference.
In under 10 days, Tulgeen's team of supported employees - people with disability in the Bega Valley – measured, cut, sewed, screen printed and finished the versatile conference bags.
Physical distancing restrictions meant that only two people per day for three days a week were able to work on the project.
"The team really stepped up to the challenge and finished the job a day ahead of the deadline," Business Development & Marketing Manager, Lisa Miller Bradley said.
"This job gave our team a real buzz of excitement and was an enormous boost after what has been a difficult time with bushfires and then COVID-19."
Lisa said the biggest challenge for the organisation is finding outlets for their products.
The opportunity to fulfil this order came through the National Bushfire Recovery Agency, in support of bushfire-affected regions. Council forwarded a list of local businesses to the DFAT product purchasing program earlier this year.
"This sort of order is ideal, and we were delighted that DFAT chose an Australian social enterprise located in regional NSW rather than going offshore," she said.
"In effect, DFAT have invested in the social capital of the Bega Valley, which is priceless."
Lisa said ongoing orders would help them immensely in securing employment for people with disability here in the Bega Valley.
"We have made a short video about the project and what it means to our employees," she said.
Tulgeen offers a range of products, including crate covers for coffee shops, shopping bags, printed tea towels, aprons, eco mesh produce bags and hessian firewood carriers.
---
Rate This Page
---
Share This Page