Snakes in the Shire's cemeteries
Wednesday 11 November 2015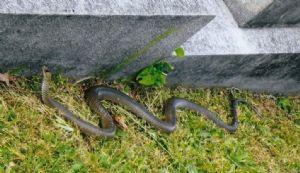 Bega Valley Shire Council is urging residents to use extra caution when entering any of the Shire's cemeteries in light of reports of large brown snakes seen in the Bega Cemetery recently.
Visitors entering cemeteries should wear long trousers and closed shoes and carry a mobile phone if possible to summon help if needed.
Although Council works with contractors and volunteers to ensure the cemeteries are kept neat and tidy with regular maintenance and mowing, this is the snake's natural environment and they cannot be relocated.
If you do encounter a snake, stand still before moving slowly away. Do not approach the snake.
Sightings or encounters with aggressive snakes can be reported to Council on 6499 2299.
Photograph: A brown snake spotted at the Bega Cemetery.
END
---
Rate This Page
---
Share This Page