Pressure from heavy rain leads to longer outfall pumping at Merimbula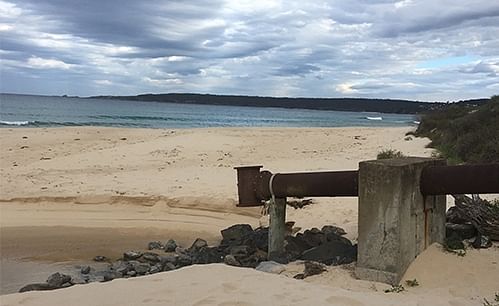 Photograph: The ocean outfall pipe on Main Beach, Merimbula
28 July 2020
The Environment Protection Authority (EPA) has granted Council permission to discharge excess treated effluent from the Merimbula Sewage Treatment Plant (STP) from the outfall on to the beach as a result of an unusually large amount of rainwater entering the sewer system.
The discharge will take place today and tonight. Normally any ocean outfall is managed during a few hours in the evenings under regulated licence conditions. However, the current rain event means our Treatment Plant Operator must pump for more hours to ensure the wet weather storage pond doesn't overflow into Merimbula Lake.
The EPA required Ocean Outfall project will eliminate this public health risk permanently once constructed.
All effluent is fully treated and complies with effluent standards. We recommend that members of the public stay clear of the outfall and avoid coming into contact with the treated effluent discharge.
END
---
Rate This Page
---
Share This Page