Stories from the Bega Valley Bushfires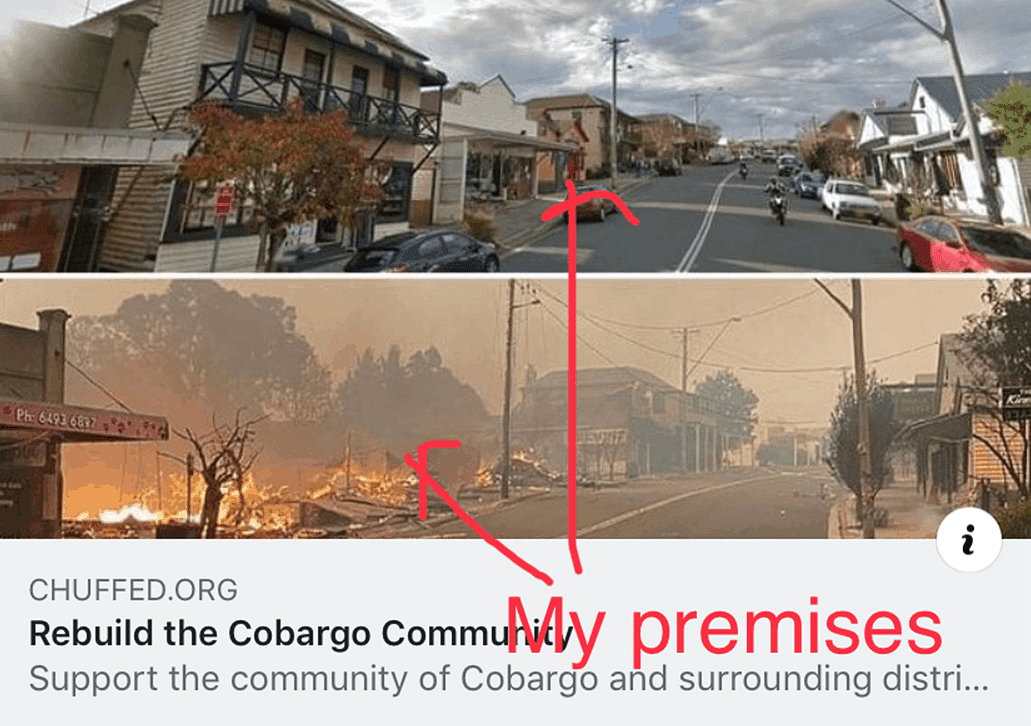 26 March 2020
Despite the newest threat to our livelihoods and communities, the bushfire recovery needs of our region are still broad and deep. Recognising the impact those flames have had on lives, the environment and the economy, Bega Valley Shire Council is keen to highlight the stories of those living with the aftermath.
Stories have power and we hope these case studies will help deliver assistance and change.
Amrei Marden – Bikram Yoga Sapphire Coast, Cobargo
Communities throughout the Bega Valley have endured so much over the past few months. Each person's journey through recovery and rebuilding is unique.
Balance and restoration of health, whether it is physical or mental, is essential for the long journey of healing ahead. Some might look towards Yoga for comfort and support.
Sadly, the well known and loved Bikram Yoga Studio in Cobargo needs rebuilding after it was destroyed during the New Year's Eve bushfire.
Local Bikram teacher, Amrei Marden has not just lost her business of seven years, but also what she describes as a way of life for her and her local community. Her students are not just customers, nor is her business just a service.
"For me it is very personal, and my students are a part of my family," Amrei said. "Even my children say they don't remember a time when the studio was not part of their life."
The loss of the Bikram Yoga Studio has left Amrei without her livelihood and equally as devastating, left a huge hole in the community at a time her services are really needed.
"I have been offered many opportunities to work in other locations around Australia, but this is where my family and my home is, and this is where I am needed," she said. "My community needs my service and I am determined to rebuild as soon as possible."
Among many things, Bikram Yoga is a calming and restorative practice. It can offer hope and healing to those who are feeling overwhelmed, need a break from talking over their experiences or need a vessel to keep moving forward in their journey, yet are unable to physically rebuild.
"Even while the fires were still burning on New Year's Eve, about 20 of my students came up to me at the rescue centre in Bermagui and said things like 'you have to rebuild your studio as soon as possible so we can all start to heal from this trauma!', Amrei said.
"Di and Norm from the Cobargo Tennis Club allowed me to use the tennis court house in Cobargo as a temporary space. So since 10 January, I have been offering free yoga classes there four times a week which has been a true blessing.
"Sadly it is getting very very cold now, as the building is not really that suitable, so with winter approaching it becomes more and more urgent to find a place to rebuild a proper studio."
Rebuilding a fit-for-purpose Bikram Yoga Studio is expensive. Amrei has applied for government funding, but she admits the process is challenging and there is still a long way to go. Outside of the business grant, she still needs to raise another $80,000 to rebuild to the required standard.
"I've felt like giving up several times during this process," she said. "But I am determined to rebuild and support my community.
"I can handle losing 'things', but not losing community spirit or wellbeing."
Amrei has her eye on a potential long-term solution; a parcel of land nestled between the Via Luna coffee shop and Cobargo's Community Garden.
"This location would offer my students a holistic experience; gathering over a coffee, restoring in the Bikram Yoga Studio and finishing with something freshly grown produce to replenish and enjoy," she said.
Whilst in the immediate future Amrei plans to rebuild and support the wellbeing of locals, she is also looking longer-term, around how she can help promote and regenerate tourism to the area for other businesses.
One idea that has proved popular in the past is hosting Bikram Yoga Retreats. These retreats draw students from around Australia for several days at a time. Amrei studio is one of only a handful in Australia and certainly unique to this region.
"Something I hadn't really thought about was how far-reaching the impact of the bushfires has been," she said.
"It wasn't until I was speaking with a business in Pambula about the cost of replacement products and service times, that I realised you don't have to be directly fire effected for your business to be impacted.
"I will definitely be using local contractors and businesses to rebuild; we are all here for each other".
Bega Valley Shire Council remains committed to supporting local business and our regional economy as a key component of our bushfire recovery and now, the COVID-19/Coronavirus pandemic.
Mayor, Kristy McBain remains focused on informing, supporting and empowering our community in these early stages of the recovery process.
More information is available on the Bega Valley Shire Council website.
---
Rate This Page
---
Share This Page