Stories from the Bega Valley Bushfires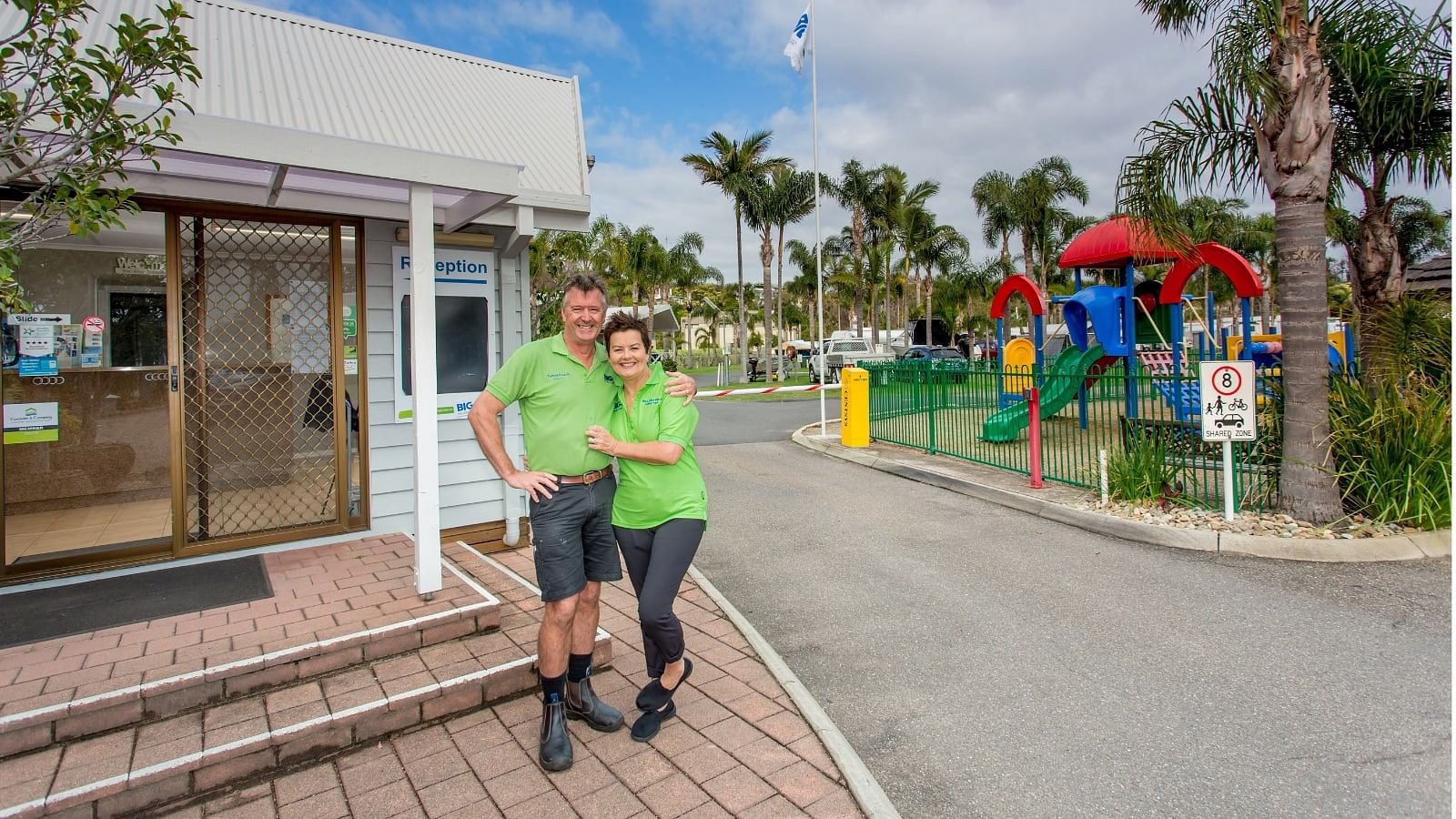 9 March 2020
The bushfire recovery needs of our region are broad and deep. Recognising the impact those flames have had on lives, the environment and the economy, Bega Valley Shire Council is keen to highlight the stories of those living with the aftermath.
Stories have power and we hope these case studies will help deliver assistance and change.
Big4 Tathra Beach Holiday Park - Greg & Kerry McKay
After crunching trading figures comparing December 2019 to February 2020 with the year before, Greg and Kerry McKay of the Big4 Tathra Beach Holiday Park are quite sure they will not recover lost revenue caused by the summer bushfires.
"In December, revenue was up," Greg said. "When the fires were up north, our business traffic increased and our figures were up 11% from the year before.
"Then the fires hit the far south coast and visitors from Batemans Bay to Eden were told to leave. All but a handful of our guests left, even though Tathra was not directly threatened.
"And of course we refunded deposits and unused accommodation to guests, which actually costs us money in processing fees.
"So far January is down 67% and February is down 20% compared to the previous year."
Kerry and Greg McKay have been running the Big 4 Tathra Beach Holiday Park for 25 years; and it has been in Kerry's family for more than 40 years.
This bushfire crisis has hit the hip pocket harder than the March 2018 Tathra bushfire, when the McKays lost their home. Fortunately, the Holiday Park was not directly affected.
With the Tathra bushfire, the town was officially closed for four days. Although there were Holiday Park cancellations following that fire, many more visitors from the ACT, NSW and Victoria flocked to Tathra over the following months to support the community.
"This bushfire crisis is worse than the March 2018 fire in Tathra," Greg said. "We have missed out on our maximum occupancy period, with only one quarter capacity over January and February.
"Many of our guests cancelled their future bookings; some up to nine months ahead.
"People process things in their own way. When you look at the coverage across newspapers, television, radio and online, to many it looked like the whole far south coast was burning and there was nothing left to visit."
The other concern for Greg and Kerry at the time was their eight staff, who all had to be stood down.
"They were back at work after a week, but we've had to reduce their hours and our own. When our staff applied for a bushfire-related allowance, they found they were not eligible," Greg said.
"I think the losses will bottom out now and maybe even turn around as March is looking good, but that has to be played out yet.
"Between ANZAC Day and the September school holidays we usually carry out refurbishments and replacements, but I doubt we'll be doing much of that this year.
"At the moment we do have bushfire recovery workers and evacuees staying with us. And most of the regular summer guests who cancelled their booking this year, re-booked for next year.
"We are also getting some off-the-street bookings, with people staying a couple of weeks instead of two or three nights because they love Tathra. More of these guests would be great!"
In the meantime, Greg and Kerry are advertising with Big4 Promotions - featuring in a direct marketing email – and working with their industry association.
"The weather is still great; there is plenty to do in Tathra and the Bega Valley, so I'd encourage visitors to come back and enjoy what's left of summer and autumn," Greg said.
Bega Valley Shire Council remains committed to supporting local business and our regional economy as a key component of our bushfire recovery.
Mayor, Kristy McBain continues her steady work in this area of concern. She recently travelled to Parliament House in Canberra and Sydney to discuss what support needs to be provided to Bega Valley businesses, both directly and indirectly affected by the bushfire disaster.
We know that if we don't get businesses back on track right now, the whole community will be negatively impacted; a 'second disaster' the Mayor calls it. Keeping people employed and building sustainable lives in our regional community is vital.
State and federal governments need to understand how desperate the situation is in our small Far South Coast towns.
Advocating on behalf of Bega Valley business, the Mayor requests that:
small businesses indirectly affected by the fires, particularly those with a turnover of less than $1 million, receive the $50,000 grant that is currently only available to burnt businesses
the ATO put $1,000 in the bank account of all those in the postcodes of each local government affected by the bushfires, allowing residents to spend this money in local shops and for local services
tax-deductible holidays are encouraged, in that if you spend seven days in a bushfire affected area, you can receive a cash deduction using related receipts.
What Council is doing now and has in place:
an economic development team working with peak business groups, other agencies and all levels of government
investment of $250,000 towards long-term business recovery, tourism marketing and events
small business digital readiness training workshops
a range of workshops and support services to small business through the Bega Valley Innovation Hub
a portal for local contractors to register their interest in becoming involved in civil recovery works.
More information is available on the Bega Valley Shire Council website.
Photograph: Greg and Kerry McKay from the Big4 Tathra Beach Holiday Park.
Related Pages
Stories from the Bega Valley Bushfires
---
Rate This Page
---
Share This Page