Sharon Tapscott on the ground with Red Cross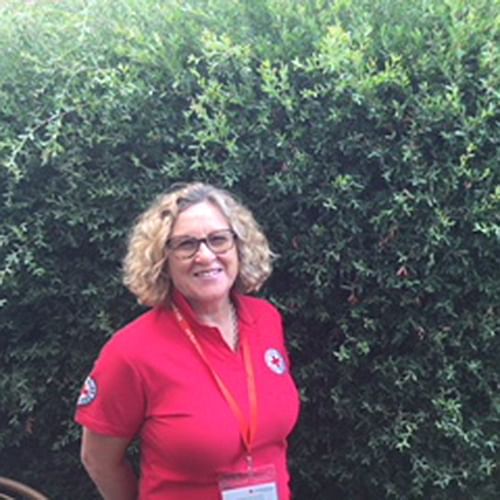 11 February 2020
This summer, Red Cross volunteers across NSW have been on the ground, helping at evacuation centres, offering people emotional support and participating in recovery efforts. Councillor Sharon Tapscott is one of those Red Cross volunteers - she's a trained Red Cross psychosocial first aider.
During the seven years that she's been a Red Cross volunteer, Cr Tapscott has been activated three times – it's unusual to be deployed that often but perhaps it's a sign of the times!
A small fire at Delegate in 2014 was her first deployment and in March 2018, she was activated again in response to the Tathra and District Fire. During the aftermath of that fire, she spent time checking in with residents on the fire ground at Vimy Ridge and with fire-impacted residents at Tathra.
She says the main learning she takes from the Tathra and District Fire is the knowledge that our communities are resilient.
"We can do it, we have the capacity to see our community re-establish itself and thrive," she says.
Most recently, for the third time, Cr Tapscott found herself with her Red Cross badge and shirt on again.
"This time has been very different – different villages have been impacted and we've had a number of evacuation centres with mixed communities which has made the centres very dynamic."
Initially, she was called into the Eden evacuation centre on Thursday 2nd January; she also worked at the Merimbula evacuation centre in the following days.
Cr Tapscott has family living locally, all with homes at Lochiel. On New Year's Eve, the family enacted their bushfire survival plan. Cr Tapscott's daughters, grandchildren and dogs relocated to her Merimbula home and her horses were moved to South Pambula while her two brothers, son-in-law and two nephews stayed to defend.
"They have experience being in the fire service and their plan was to defend their five properties and to retreat to the one property if necessary," Cr Tapscott explains.
On Saturday 4th January, that is exactly what they had to do.
"Our plan was pre-arranged, communicated and enacted, all went well but we now contend with a campaign fire.
"It was a very surreal experience and very confronting for my grandchildren," Cr Tapscott says.
The Lochiel families have evacuated four times now and they have no expectation that it will not happen again.
"Over the course of the day (Saturday 4 January), hundreds of people were camping at Ford Oval, my sister and I could see them from my place."
"As part of our bushfire plan, we'd already moved our Winnebago RV and horse truck to Ford Park."
"It was very smoky, so we decided to check on people at the oval, we were mainly concerned about small children or babies out in that smoke - we looked for prams."
They found two families – the first was a woman in a tent with three small children and they immediately offered her the use of the Winnebago RV which she accepted.
Then they found a woman with her eight-week old baby.
"We organised for her to share a friend's empty unit with some other families, everyone just mucked in, people came to our place for showers, it was a real sense of community," she says.
This summer's round of bushfires is Cr Tapscott's second experience as a Bega Valley councillor living through an emergency situation.
"I feel the extra responsibility of being a councillor and listening to people as a Red Cross volunteer informs that role.
"I try to direct people to good, direct and accurate information.
"The filter I run things through is, 'Is this going to be of benefit to my community?'"
"If something benefits someone on the ground, someone with a face and a name, then I think that filter works."
Photo: Cr Sharon Tapscott is a Red Cross volunteer.
END
Related Pages
Sharon Tapscott on the ground with Red Cross
---
Rate This Page
---
Share This Page