New exhibition in Motion at BVRG
Tuesday 28 July 2015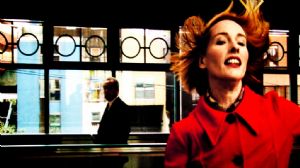 An exciting new exhibition has opened at the Bega Valley Regional Gallery featuring works from 10 diverse artists.
'Motion: the body and movement in contemporary art practice' is on exhibition now until 22 August.
BVRG Curator, Iain Dawson, said Motion takes its cue from Duchamp's 'Nude Descending a Staircase' then hits hyper-drive towards 21st century Australia.
"This exhibition features works from UNSW Art and Design alumni, Shaun Gladwell; academic and artist, Sue Healey; as well as other UNSW Art and Design staff.
"It is vitally important that regional communities are able to access cutting edge contemporary art practice without having to travel.
"Through this partnership with UNSW Art and Design along with the Art Gallery of NSW and other industry and lending bodies, we can ensure that rural audiences can connect with different agendas that attract and retain creative talent locally." He said.
For more information on the exhibition, contact BVRG on 6499 2202 or gallery@begavalley.nsw.gov.au
Photograph: Sue Healey's 'Will Time Tell Still'
END
---
Rate This Page
---
Share This Page