Fruit tree grafting demonstration
Wednesday 3 June 2015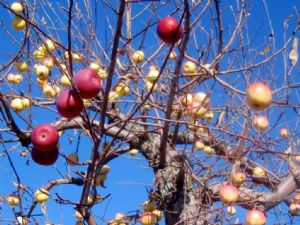 Bega Library is branching out its services to include a special fruit tree grafting demonstration from a prize winning fruit grower.
The free July workshop will be held by Brad Ford, a prolific local and interstate exhibitor of fruit, flowers, poultry, wool, and cattle.
Workshop organiser, Tanya Apps said that Mr Ford had won the Grand Prize Open 'Tray of Apples' at this year's Bega Agricultural Show with an impressive assortment of apple varieties grown on his grafted trees.
"The day will offer something new for library visitors and people wanting to explore the mysteries of grafting will be in expert hands.
"Brad Ford is a popular local and long term Bega Show committee member who has successfully exhibited in numerous divisions up to Royal Show standard.
"He has a wealth of wealth of knowledge and we are thrilled that Brad has agreed to share some of his experience with us."
"We've been told that there is some fine detailed work in grafting and it's recommended that people bring along a magnifying glass to help them on their way.
"Each person will take home their own newly grafted cutting after learning the basics in the workshop," Ms Apps said.
Bookings are required as there are limited places available. To book a spot call Bega library on 6499 2127 or book online through the Library's Eventbrite page http://bitly.com/1c3PeCy
The workshop will be held on Thursday 9 July at 10am.
END
---
Rate This Page
---
Share This Page