Memory loss no barrier to new program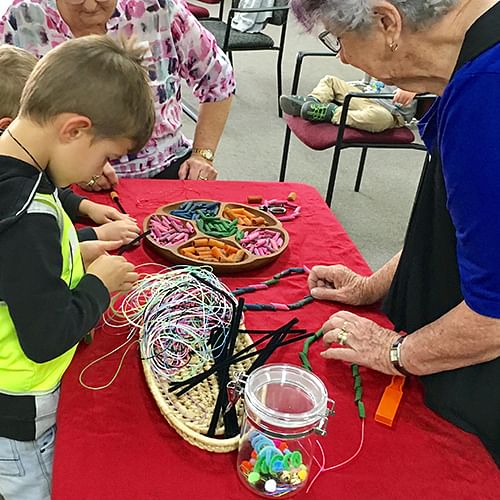 2 July 2019
If you're a senior person experiencing memory loss (or their carer), then the Intergenerational Community Activities project is a program for you.
Bega Valley Shire Library has received a grant of $10,000 from Dementia Australia's Dementia Friendly Communities grants program to run the project aimed at seniors who may be experiencing some memory loss.
Programs and Partnership Officer, Scott Baker, said this initiative has the potential to really make a positive impact on people's lives, and will honour participant's lifetime experience, skills and passions.
"If you're a senior (or you care for someone experiencing memory loss) and you think you may be eligible, we'd love to hear from you as soon as possible because we're aiming to start the program in August.
"The idea is that senior participants will be co-facilitators and they will collaborate with the program co-ordinator, Hayley Reynolds, to create a series of activities to share with local pre-schoolers," said Mr Baker.
Hayley Reynolds holds qualifications in both early childhood education and diversional therapy (aged care) and has extensive experience in developing and delivering intergenerational programs.
As a co-facilitator, the program will support you to design and deliver activities that highlight your skills, strengths, knowledge, interests, history and/or culture. The focus may be something you are passionate about, something you might have mastered over the years, or experiences from your lifetime that you would like to share with the next generation.
"The program will be varied and might involve you visiting a local preschool over a number of weeks to share your skills with a group of children, or you might take part in Storytime or Rhyme Time sessions at local libraries.
"Most importantly, Ms Reynolds will work with co-facilitators and carers to develop the best type of sessions that suit your needs," explained Mr Baker.
Intergenerational experiences have enormous benefits for both older folk and children. For those people experiencing memory loss, taking part in meaningful and enjoyable activities can stimulate improved cognitive function and enhance feelings of self-worth.
New experiences of meeting people of different ages and from different backgrounds help children develop their social skills.
If you would like more information about this project, or would like to be involved, please call Sugita Wahl on (02) 6499 2361 or email VWahl@begavalley.nsw.gov.au.
More information about Dementia Friendly Communities is available at www.dementiafriendly.org.au.
Photo: Intergenerational experiences provide enormous benefits for people of all ages.
END
Related Pages
Memory loss no barrier to new program
---
Rate This Page
---
Share This Page