Outdoor pool season on the horizon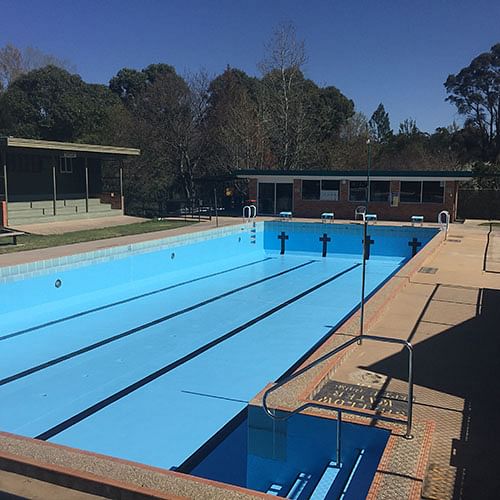 The Cobargo Pool is looking a picture following an off-season painting project.
8 September 2020
Our outdoor swimming pool season is fast approaching, as Council staff and contractors prepare for re-opening, albeit in a COVIDSafe and slightly different way.
Bega Valley Shire Council's Aquatic and Leisure Facilities Coordinator, Nic Hoynes, said as well as general maintenance activities undertaken across the pools, the key focus project this off-season was the painting of Cobargo Swimming Pool.
"The work at Cobargo included the removal of the many years of existing paint, the completion of repairs to the pool shell and tile grout, replacement of the expansion joint sealant and the preparation and painting of all the surfaces," Mr Hoynes said.
Bega Swimming Pool will open next Monday (14 September) with reduced opening hours as a trial. The pool will be available Monday to Friday from 6am to 10am and 3.00pm to 5.00pm, and Saturday and Sunday from 10am to 4pm. Normal hours will resume from Monday 28 September, in line with the opening of the remaining four outdoor swimming pools.
Bemboka, Candelo, Cobargo Swimming Pool and Eden Memorial Pool will open on Monday 28 September, just in time for the cchool holidays.
As part of the Bega Valley Shire Council 2021 fees and charges adopted recently, there has been minor increases applied to the casual entry and season ticket prices for swimming pools. This is in line with a range of Council fees and charges and will be the first change to swimming pools fees and charges since 2017.
To provide a safe environment for our community, change will be implemented to meet the NSW Government's COVID 19 restrictions. Each pool will be affected differently based on the size and type of facility, and we recommend you check in with your local pool once open to see what changes may apply.
As a minimum, changes will include:
Maximum capacities applied to each facility, pool and building area
Booking systems to manage customer numbers
Customer sign in for contract tracing purposes.
Additional requirements for group bookings and events
During your visit, we also ask you to please:
Not visit our pools if you are unwell or have flu like symptoms
Maintain good personal hygiene, including regular hand washing/sanitising
Shower and change at home if possible
Download and use the COVIDSafe App
We appreciate your understanding as these changes occur and we will continue to provide updates if further changes or easing of restrictions occur.
We hope you has a safe and enjoyable season at our local swimming pools. For more information, please visit www.begavalley.nsw.gov.au/swimmingpools
END
---
Rate This Page
---
Share This Page