Sporting Complex plan on exhibition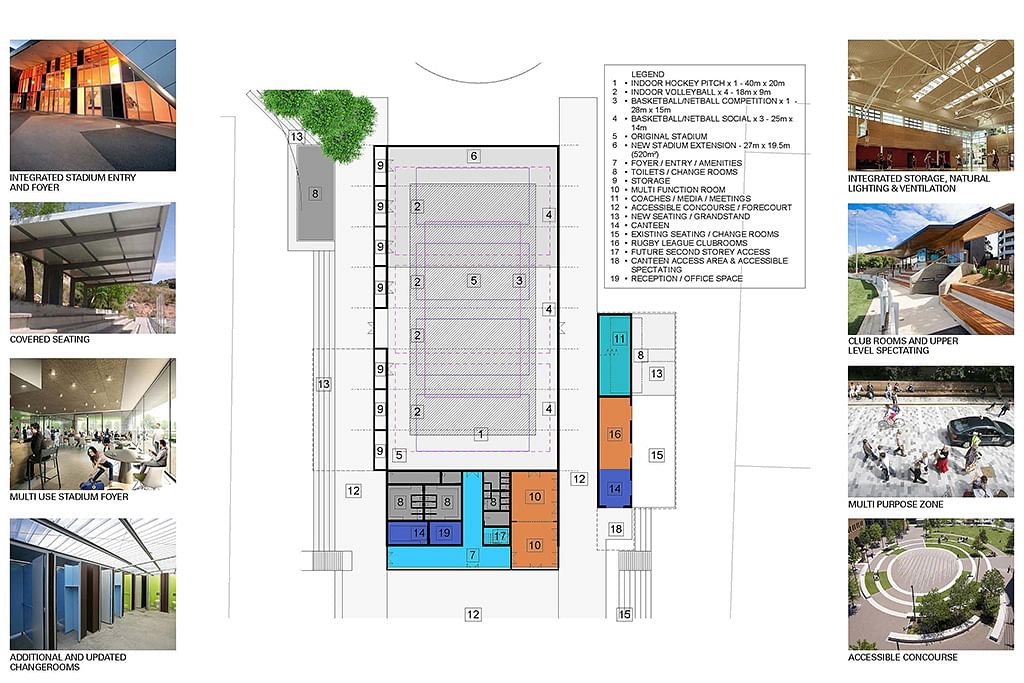 Individuals and groups with an interest in community sport and recreation facilities are encouraged to provide their feedback on the concept design for an upgraded Bega Sporting Complex Building.
This public consultation phase represents another key step forward for the project and follows on from Council working closely with Cox Architecture and a stakeholder group of site users over recent months.
Council's Manager Leisure and Recreation, John Grady, said that the stakeholder group had provided excellent input through an initial survey and two subsequent workshops presented by the Cox Architecture team.
"The result of this collaboration is a concept plan that is based on overcoming facility gaps, meeting the needs of users, compliance with current standards and getting the facility mix right," Mr Grady said.
"It also explores linking and relating those required works to other opportunities for upgrades and improvements that will see the site able to cater for a wider range of uses and community events into the future. Importantly an option for staging the work has also been included.
"Among the multitude of improved and new features outlined in the concept are new and upgraded change rooms, seating and canteen facilities for both grounds and the indoor sports building; an upgraded building foyer area and facilities; better defined vehicle and pedestrian areas, including a shared concourse; improved connectivity to the town centre; and a larger indoor sports building footprint," Mr Grady said.
Council has been working through the NSW Government's Sports Infrastructure Fund process in an effort to secure external funding for the two adopted sporting complex masterplans for Bega and Pambula.
Good feedback was received on Council's initial 'Expression of Interest' and a full business case application has subsequently been submitted.
The public exhibition phase for the Bega Sporting Complex Building project extends until 7 October - to provide your thoughts head to https://www.begavalley.nsw.gov.au/haveyoursay.
For more information visit this page or contact Council's Leisure and Recreation team on (02) 6499 2222.
Photograph: The concept plan for an upgraded Bega Sporting Complex Building is on public exhibition for community feedback.
---
Rate This Page
---
Share This Page