Pambula teen working with Council to shape future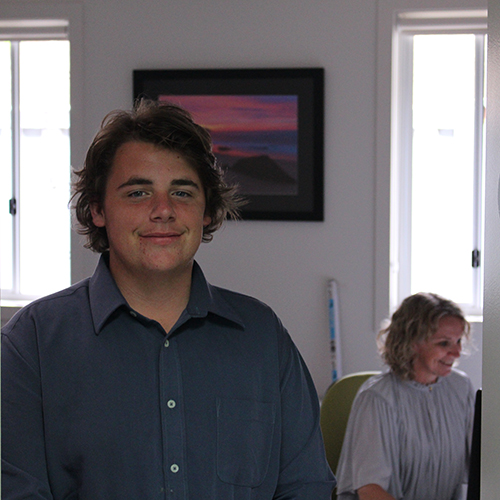 Thursday, 23 November 2017
A young man from Pambula says his time as a School Based Trainee within Council is helping him make plans and decisions for his future. Ryan Hayden is a year 11 student at Eden Marine High School and has spent the last year working at the Bega Valley Regional Learning Centre in Merimbula.
"This is a place of learning so I was keen for us to walk the walk," said Linda Mayo, Centre Coordinator.
Ryan has been spending each Thursday working side by side with Linda making his way through Business Administration studies, while juggling a more traditional school timetable.
"It's a great place to work and I am not just saying that," Ryan said.
"Because of the nature of the centre, there have been a lot of opportunities to meet people from all sorts of industries and backgrounds."
Like many 17 year olds, Ryan says he isn't sure what he wants to do after completing the Higher School Certificate next year, but is positive his experience at the Learning Centre will help him make a good choice.
"I am still deciding whether uni is for me, but this has shown me there are other options, this will help me get a job," Ryan said.
The skills and confidence Ryan has gained during the year has flowed into the rest of his school work.
"I am much better organised in my other subjects and can concentrate better," he said.
Ryan found out about a School Based Traineeship at Council through his school's careers adviser.
"This is available to anyone across the various functions and responsibilities of Council," Linda said.
"And it's been good for me, Ryan has been a great support, I know I can count on him."
Ryan's work at the Bega Valley Regional Learning Centre will continue next year as part of his HSC studies.
For more information about School Based Apprenticeships and Traineeships at Council speak with your high school careers advisor.
"Thank you Ryan, you are a credit to your family and community," Linda said.
Photograph: Pambula's Ryan Hayden working on life after school with Linda Mayo at the Bega Valley Regional Learning Centre in Merimbula.
END
Scroll down to Like | Share | Comment on this page
---
Rate This Page
---
Share This Page
---