Villers-Bretonneux rises for Cobargo, Anzac bonds still run deep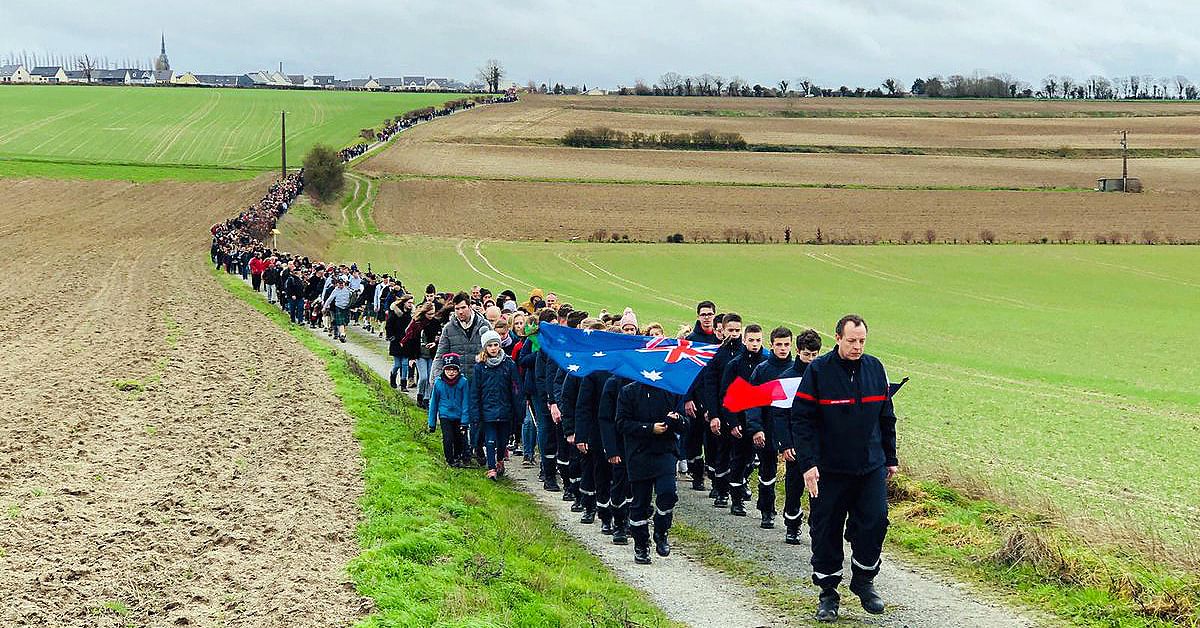 Photograph: Over 1000 people participated in a solidarity march in Villers-Bretonneux as part of a fundraising campaign for our bushfire recovery. (Photo credit: Sir John Monash Centre and ADF).
Friday, 24 April 2020
Anzac Day brings an opportunity for reflection. A moment to remember history and how it can inform our future.
This Anzac Day, marks 102 years since Australian Diggers played a key role in liberating a small French village from German occupation as the carnage of the Western Front raged on in World War 1.
Amazingly, the humanity tied to these events has been felt over a century later here in the Bega Valley in the midst of our bushfire recovery.
The hamlet of Villers-Bretonneux in northern France is home to a school that the people of Victoria (Australia) paid to have rebuilt following the conclusion of the 'war to end all wars' and is the final resting place for over 2,000 Australian and Commonwealth servicemen.
A sign writ large over the L'Ecole Victoria' (Victoria School) playground is just one example of how this community on the other side of the planet has steadfastly and passionately passed down through the generations a love and respect for Australia and its people.
"Do Not Forget Australia" it demands of a reader and the people of Villers-Bretonneux certainly haven't.
With the Bega Valley choking under a pall of smoke at the start of 2020, the people of Villers-Bretonneux, led by their Mayor Patrick Simon, were watching and almost instinctively planning what they could do to lend a hand.
While our brave firies continued to rush towards clear danger, battling blazing infernos seemingly relentless in their attack on the lives and property of our family, friends and neighbours; the people of this village over 17,000 kilometres away, were mobilising and diligently fundraising - doing what they could to reaffirm their solidarity with Australia and make our recovery just a little easier.
An online fundraising page received donations from more than 800 people and over 1000 people braved the winter chill for a solidarity march from the town centre to the Australian National Memorial and Sir John Monash Centre, where a school choir sang a song especially written for the appeal entitled 'Australia, Stop Burning'.
By late February over $37,000 had been raised, with the proceeds now to be shared between the fire fighters of Robinvale in Victoria (Robinvale and Villers-Bretonneux have had a long-standing relationship) and the Bega Valley Community Disaster Relief Fund.
Bega Valley Mayor Kristy McBain will write to her French counterpart to thank him and his community for their generosity.
At the request of the Villers-Bretonneux community, the Bega Valley funds will be used within the Cobargo area.
Let this Anzac Day remind us how kindness and service, now and in the past, can grow and inspire communities near and far.
May we never forget Villers-Bretonneux.
END
---
Rate This Page
---
Share This Page