Exhibition celebrates personal as political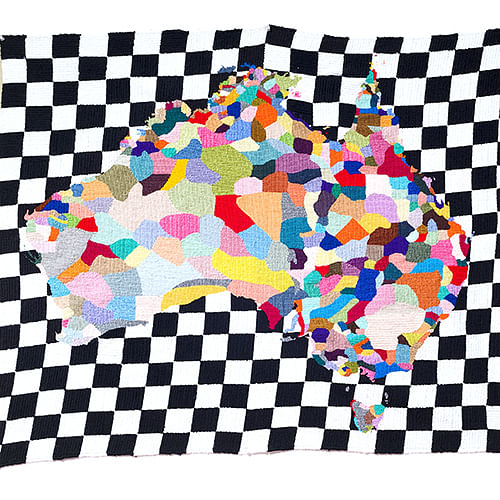 11 February 2020
The next exhibition to be unveiled at the Bega Valley Regional Gallery (BVRG) on Friday 14 February showcases craft-based creations with a political intent.
Craftivism. Dissident Objects and Subversive Forms reveals the myriad ways that artists challenge our perceptions of craft materials and approaches within a contemporary context, inviting viewers to rethink craft in a new light.
It features works by 18 contemporary Australian artists and artist collectives, who subvert and extend traditional craft-making traditions as channels for activism and social change.
BVRG Director, Iain Dawson, says the Personal as Political concept has never been more relevant.
"Artists are using craft techniques to explore and articulate the burning ideas and issues of our times, to stimulate activism and effect social change," he says.
The opening is also part of the Bega Valley Seniors Festival line-up and fits the 'Love to Celebrate' theme perfectly – it's a collaborative, playful and immersive exhibition.
The featured artists are engaged with environmental politics and climate change, while others are concerned about contested borders, immigration and democracy.
Exhibition artists include: Catherine Bell, Karen Black, Penny Byrne, Erub Arts, Debris Facility, Starlie Geikie, Michelle Hamer, Kate Just, Deborah Kelly, Ramesh Mario Nithiyendran, Raquel Ormella, Tai Snaith, Hiromi Tango, James Tylor, Jemima Wyman and Paul Yore.
This is a Shepparton Art Museum (SAM) curated exhibition, touring nationally by National Exhibitions Touring Support (NETS) Victoria. BVRG is supported by the NSW Government through Create NSW.
Craftivism. Dissident Objects and Subversive Forms opens at 2.00pm on Friday 14 February and everyone is welcome.
More information about Craftivism. Dissident Objects and Subversive Forms here.
Photo: Paul Yore, Map, 2012, wool needlepoint, 90 x 101 cm, Wangaratta Art Gallery Collection, @the artist.
END
---
Rate This Page
---
Share This Page