Council protecting waterways from impacts of bushfires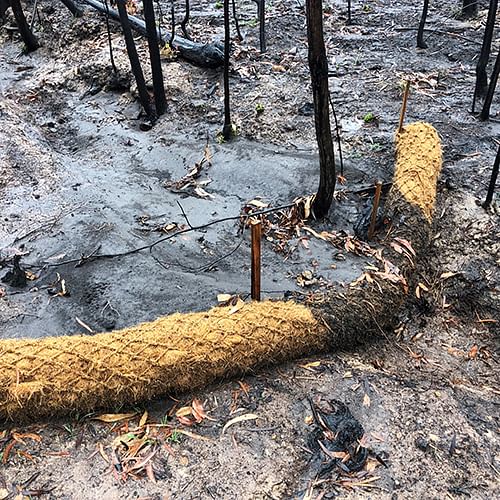 17 February 2020
Bega Valley Shire Council has been installing essential sediment and erosion controls in bushfire affected estuaries and waterways over the past few weeks.
Significant rainfall following a bushfire can severely affect water quality. The increased catchment runoff and erosion causes cloudiness in the water and changes the pH levels, which in turn affects seagrass growth, fish survival and stimulates algae bloom issues.
"Wonboyn in particular has been severely impacted, with around 90% of the catchment burnt, significantly impacting water quality, estuarine ecology and the local oyster industry," Director of Community, Environment & Planning, Alice Howe said.
"Oysters are particularly vulnerable to fresh water and sediment inputs, so Council relocated sand from the entrance channel of Wonboyn Lake to help improve tidal exchange and water quality.
"The Department of Planning, Industry & Environment (DPIE) has installed a series of loggers in Wonboyn Lake and continues to take water samples to understand the influence on the increased tidal exchange.
"This information will help improve our understanding of fire related impacts on estuaries at a broader scale.
"The NSW Environment Protection Authority is conducting water sampling in Towamba and Wallaga and the DPIE is collating additional data and mapping to identify key sites for works in affected catchments.
"Council is also seeking funding from the NSW Government's bushfire affected coastal waterways grants to install sediment and erosion controls, restore estuarine foreshores and habitat and conduct water quality monitoring to determine the impacts of fire activity."
Photograph: Sediment controls have been installed around the Wonboyn catchment to reduce sediment and debris entering the lake.
END
Related Pages
Council protecting waterways from impacts of bushfires
---
Rate This Page
---
Share This Page