Improved access to Wonboyn Lake
Tuesday 26 May 2015
Boaters and recreational fishers now have improved access to Wonboyn Lake with work to build a new boat ramp and floating pontoon jetty now completed.
Mayor, Michael Britten said Roads and Maritime Services provided $245,000 to Bega Valley Shire Council through the Better Boating Program.
"Each year, Roads and Maritime offers funding to local councils and boating and community groups for contributions to boating infrastructure projects in NSW," he said.
"Bega Valley Shire Council identified Wonboyn Lake boat ramp and jetty as a high priority for upgrade and was successful in their funding application, with half of the project budget of $490,000 provided.
"Major building work started in February after the removal of the old boat ramp and timber jetty. A new ramp and floating pontoon was built as part of the project.
"The turning circle at the boat ramp and launching area was increased, and the carpark was also resurfaced with new line marking installed.
"New signs and solar lighting have also been provided."
Cr Britten said the Wonboyn community contributed a stainless steel fish cleaning table and seat made from the decking timbers of the old jetty.
In August last year, the NSW government announced a further $14 million in annual funding to be allocated for the next five years as part of the new NSW Boating Now program.
Revenue is raised from boat registration and licence fees to fund the grants program for improvements to public wharves and jetties, boat ramps, car and trailer parking, sewage pump out facilities and dinghy storage.
The Official opening will take place on Monday 1 June at the jetty, commencing at 10:30am. The opening will be officiated by the Hon Andrew Constance Member for Bega and Minister for Transport and Infrastructure. All members of the public are welcome to attend.
For more information on the Better Boating Program visit http://www.rms.nsw.gov.au/projects/key-build-program/better-boating-program/index.html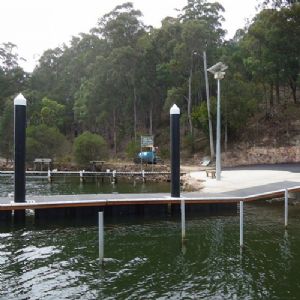 Photographs: Before and after shots of the Wonboyn boat ramp.
RMS Media officer: Cameron Bell - Ext: 85916
END
---
Rate This Page
---
Share This Page