Bermagui Rural Fire crew are 'family'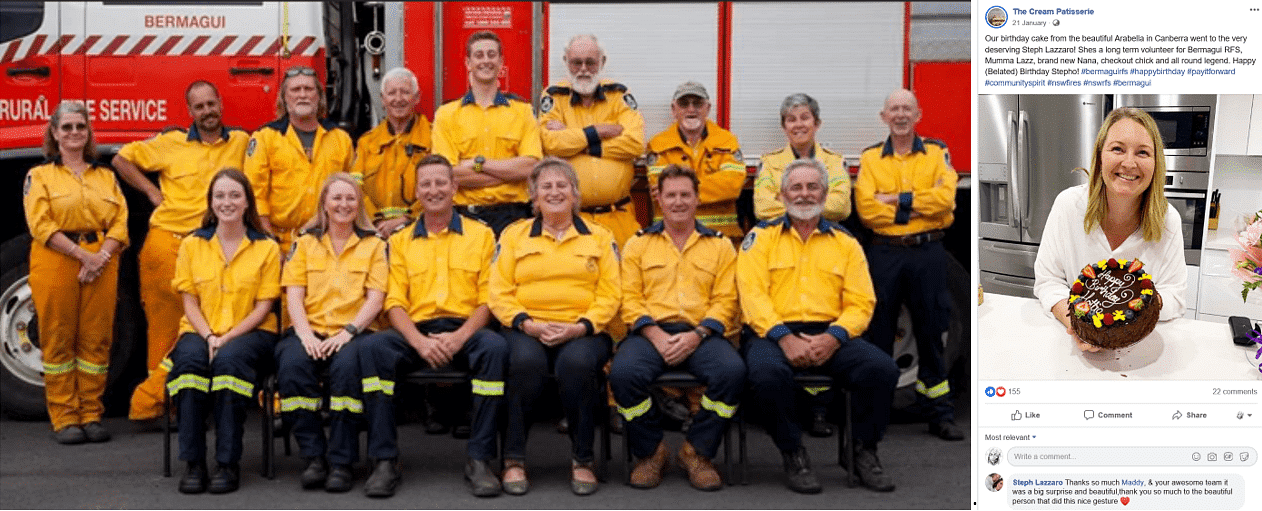 Bermagui Rural Fire Service crew and Steph Lazzaro with her 'pay-it-forward' birthday cake.
19 May 2020
Welcome to National Volunteer Week. The dedication of the Bermagui Rural Fire Service's crew of volunteers is one of many great examples of community strength our Valley's volunteers show time after time.
Steph Lazzaro joined the Bermagui Rural Fire Service 29 years ago when she was 17. This is her story.
I was the only girl in the house and used to hang out with my brother Daniel and his best mate Tim Holdsworth; they were both fire brigade volunteers.
One weekend they took me to a smoke house, which is a shack full of smoke where they put breathing apparatus on you and spin you around to disorientate you and you have to find your way out. And from there I was hooked and joined up.
After years of weekend training and assessments, we all stayed in the service. Dan is now in QLD Fire and Rescue, and Tim and I are still with the Bermi brigade - Tim as Captain, I'm Senior Deputy Captain and Pat Waddell is Deputy.
Our RFS crew are an amazing group of men and woman that vary in age and qualifications, which make us all click.
There is no hierarchy in the way we work; when we go to a job we work together as a team, we have each other's backs and look out for each other and that's what makes the Bermi crew 'family'.
The recent summer bushfires were a huge test for everyone; for some of our members it was their first fire.
Tim, Pat and I are so proud of each and every member; how they kept a level head and worked around the clock for six weeks without complaining.
We were all running off adrenaline. It's not everyone's cup of tea, but the satisfaction of doing a good job, getting the job done and coming home safe is what makes it worthwhile.
The added bonus is we all have the support of our families and our work; they are all very much part of the crew. We might be the ones out there, but they are the ones at home worrying about us.
The satisfaction of going to a job, and no job is the same, is that you learn something new every time you get in that truck and you never stop learning.
When we come back to the shed we have a debrief where everyone gets to say what's on their mind; it's another way of learning.
In the days after the bushfires a seven year old Canberran who had just celebrated her birthday paid for a birthday cake from Bermagui Cream Patisserie to be forward on to a volunteer, which went to Steph who celebrated her birthday a week later.
During National Volunteer Week we're celebrating the incredible contribution volunteers make at the heart of our community. We can't give them a hug or shake hands their hands right now, but we can give them a massive shout out online.
To do that we've created a virtual Thank You card on our website where you can write as much or as little as you like, to pay tribute to a volunteer or group of volunteers. You can find the card here:
Be part of the celebration by sharing photos of your favourite volunteering moments on social media with the hashtags #thankyouBVSvolunteers and #NVW2020
Related Pages
Bermagui Rural Fire crew are 'family'
---
Rate This Page
---
Share This Page