Bega Valley taps into global discussion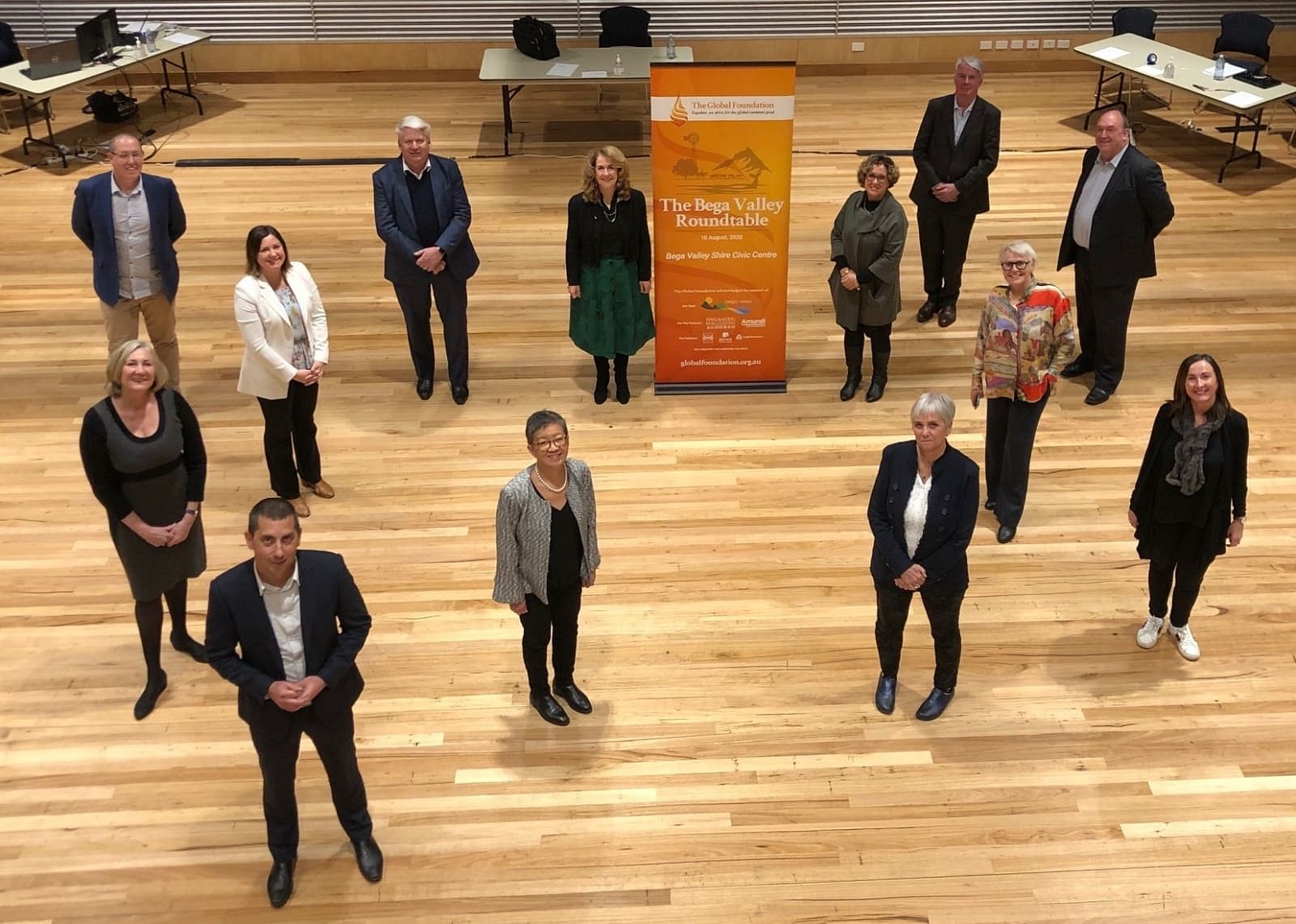 Photo (left to right): Donna Portland – Operations Manager, The Global Foundation; Ian Campbell – Manager, Communications & Events, Bega Valley Shire Council; Daniel Murphy – Manager, Economic Development, Bega Valley Shire Council; Kristy McBain – Federal Member for Eden-Monaro; Rob Knott – Executive Chair, GHD; May Ngui – Director, GHD; Louise Watson – Chair, The Global Foundation; Cr Sharon Tapscott – Mayor, Bega Valley Shire Council; Leanne Barnes – General Manager, Bega Valley Shire Council; Steve Howard – Secretary General, The Global Foundation; Sheridan Lee – Chair/Founder, Shed Enterprises; Russell Fitzpatrick – Deputy Mayor, Bega Valley Shire Council; Fiona Hartley – Projects Manager, The Global Foundation.
14 August 2020
People from France, Singapore, Luxemburg, Canada, Wales and beyond have seen first hand the ideas, passion and commitment of the Bega Valley as our community comes together to redesign a future following bushfire and COVID-19.
This week's Global Foundation Roundtable focussed on the Bega Valley's 2020 experience as a way of driving a bigger conversation around recovery, rebuilding and resilience in regional communities around the world.
Around 150 people took part in the Zoom video conference, including a significant cohort from the Bega Valley representing the Yuin Nation, business and industry, arts and culture, environment and community groups.
"Some big players took part in the discussion including the current and former Governor-Generals, Andrew Colvin from the National Bushfire Recovery Agency and Pat Turner, Convenor of the Coalition of the Peaks," said Mayor Sharon Tapscott.
The Global Foundation is a non-profit citizens' organisation, and through its regular roundtable series looks to blend local, national and global participation.
The Bega Valley event held this week is the only one to be held in a regional community so far and canvassed a number of themes:
lessons about resilience and recovery
opportunities for sustainable economic growth, linking local, national and global
culture and knowing who we are
a green recovery is a universal opportunity and a necessity
where to from here?
"We aren't the only community reflecting on these issues and what this week's meeting did was put us in front of key national and international investors and leaders who are looking to make a difference and now see the Bega Valley as receptive and ready for change," Cr Tapscott said.
"Pat Turner for instance has been instrumental in the new grassroots approach to the Federal Government's Closing the Gap framework. She made the offer this week to fast-track the Bega Valley's involvement in that.
"Council has already picked up that invitation and is looking forward to working with the Yuin community about taking the next step."
The region's hard lessons around food, fuel, transport, land management, power and communications during our bushfire emergency was also a theme of the roundtable discussion.
"What is clear is that we need more localised supports and infrastructure. And with our state and federal representatives in the room, Council will continue to make that point," Cr Tapscott said.
Council had hoped to live stream the discussion to its Facebook page but a last minute technical glitch got in the way. Recordings from the roundtable are available now via The Global Foundation website.
---
Rate This Page
---
Share This Page