Gallery architect announced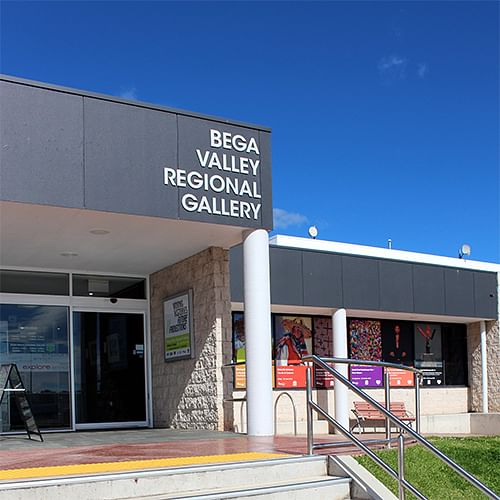 18 April 2018
The proposed redevelopment of the Bega Valley Regional Gallery (BVRG) has taken another significant step forward, with the announcement today that Sibling Architecture has been selected to design the upgrade to the facility.
The design will play a key role in Council's application to the Regional Cultural Fund.
BVRG Director, Iain Dawson, said that Sibling Architecture is a specialist firm with extensive experience working in the arts and cultural arena and have offices in Sydney and Melbourne.
"Sibling is a well-respected firm with a proven record of creating art galleries that invite communities in and encourage strong engagement with audiences. We are so excited to work with them to deliver a vision for the BVRG," Mr Dawson said.
"They are also familiar with the region, having worked closely with the Old Bega Hospital Redevelopment Committee to produce their concept designs. Sibling have also committed to partnering with local firms to deliver a strong project that reflects who we are.
"Following the 14 March resolution of Council to proceed with an application to the current round of the NSW Cultural Fund for the redevelopment of the current gallery site, we have been working closely with the NSW Cultural Infrastructure Projects Management Office.
"It's an incredibly exciting time, and even though the competition for funding is incredibly high, we are confident we will have a strong proposal and that there is a clear need for the facility to be updated.
"We were thrilled at the response from the community during the consultation phase last year, with the incredible number of people responding demonstrating how cherished the BVRG is as part of this community.
"This is a once in a generation opportunity to deliver an art gallery that is in line with the community's expectations and allows us to deliver a program of exhibitions and cultural activities that inspire, challenge and mirror the vision we have ourselves here in the Bega Valley.
"A stakeholders committee comprising community members with expertise across the arts, regional tourism and Aboriginal communities, along with sector experts has been initiated and will be consulted at each milestone throughout the project in preparation for a submission in June.
"I encourage members of the community to contact me in writing at gallery@begavalley.nsw.gov.au to provide any further feedback on the project as we look forward to the next chapter in the BVRG's history and attempt to reach as many people as possible with our future plans," Mr Dawson said.
The gallery's upcoming exhibition EMBELLISH | Hilda Rix Nicholas & The Art of Costume opens on 4 May and entries for the The Shirley Hannan National Portrait Award have opened for 2018.
Photograph: The Bega Valley Regional Gallery.
END
---
Rate This Page
---
Share This Page