Work to commence on terminal extension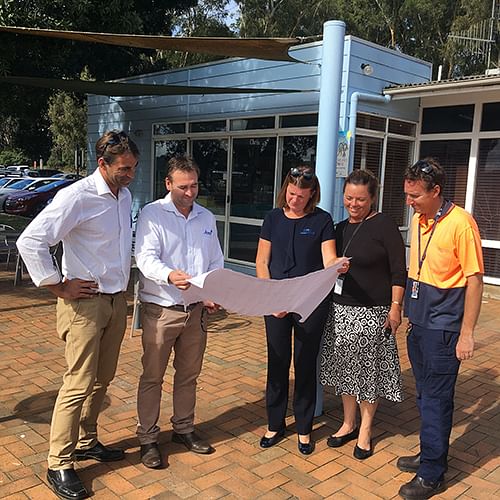 25 March 2019
Work is set to commence this week on the much-anticipated Merimbula Airport Terminal Extension after the Development Application was approved recently.
Following an extended pre-construction period and extensive research, the project has now reached the stage where a company has been contracted for the build, with Joss Construction emerging successful from the public tender process.
Funding under the Australian Government's Community Development Grants Programme has been received to assist in the completion of the project, with the scope representing the minimum required to enable a greater range of aircraft and airlines to use the airport and to cater for potential security changes.
Airport user groups were involved in workshops to develop the plans for the terminal and the lead architect, STEA Astute Architecture, has extensive experience with regional airports.
Council's Project Manager, Jennifer Symons, said additional measures are being put in place to ensure the key aim of no disruption to services is met.
"The installation and utilisation of a temporary terminal building will play a big role in this by enabling the building activity to be kept completely separate from the airport users," Ms Symons said.
"Another important advantage of moving to the temporary terminal is it should reduce the construction period by up to 60 days, with completion expected prior to the busy summer holiday period.
"Being a portable building, the temporary terminal will not provide the normal level of amenity, however every effort has been made to ensure safety and promote comfort, including the retention of a limited food service and an outdoor area.
"All efforts are being made to minimise disruptions to car parking as well, with the disabled parking spaces to be moved closer to the temporary terminal during the construction phase," Ms Symons said.
Signage is being installed to keep users updated on the project and Council is strongly encouraging customers and patrons to provide feedback about any difficulties they may experience during the construction phase.
For more information visit the dedicated project page at www.begavalley.nsw.gov.au/majorprojects
Photograph: Daniel McAlister and Brad Piltz (Joss Construction), Mel Thane (Merimbula Airport Operations), Jennifer Symons (Council's Project Manager) and Chris Thane (Merimbula Airport Operations) go over the plans for the Merimbula Airport Terminal Extension.
END
Related Pages
Work to commence on terminal extension
---
Rate This Page
---
Share This Page