Flood study on exhibition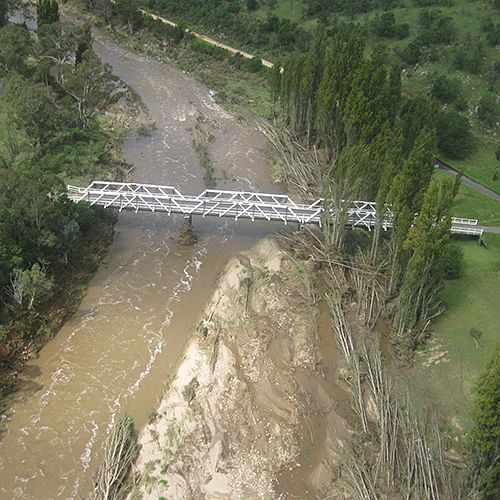 25 November 2019
The local community is encouraged to provide feedback on the draft Eden, Twofold Bay and Towamba River Flood Study after Council recently resolved to place the document on public exhibition.
Continuing until Friday, 20 December, the public exhibition phase represents the extension of the ongoing conversation between Bega Valley Shire Council and those living and working in Eden, the upper catchment and around the bay on how to manage the risk of flooding in the area and ocean storms impacting Twofold Bay.
The project study area comprises the low-lying areas around Twofold Bay; the Boydtown and Shadrachs Creeks; the Nullica River; the Towamba River at Rocky Hall, New Buildings, Burragate and Towamba; and the Mataganah Creek and Wyndham and New Buildings.
Council's Asset Management Coordinator, Gary Louie, said the communities across the study area had made a significant contribution to the draft findings during the initial community consultation phase across 2017 and 2018 and Council was looking forward to continuing the positive momentum.
"A key component of the public exhibition period will be two community drop-in sessions planned for Towamba and Eden, that will include a project presentation and provide an opportunity for the public to ask questions, provide comments and gain assistance with the preparation of detailed written submissions," Mr Louie said.
"All community feedback gleaned from public exhibition period will inform the preparation of the final documents and with the study being prepared to meet the objectives of the NSW State Government's Flood Prone Land Policy, it will establish the basis for subsequent floodplain management activities.
Community Drop-in Sessions
Tuesday, 3 December from 4.00 - 6.00pm at Towamba Hall
Wednesday, 4 December from 4.00 - 6.00pm at Eden Log Cabin (Bass Street, Eden)
The NSW Department of Planning, Industry and Environment (DPIE) and the Minister of Police and Emergency Services are supporting Council by providing technical assistance and grant funding for the project.
The draft Flood Study can be viewed at www.begavalley.nsw.gov.au/haveyoursay and hard copies are available at the libraries at Bermagui, Bega, Tura Beach and Eden; at the Council Offices in Zingel Place, Bega; at the Towamba Public School; and at Rocky Hall Pre-School during regular business hours.
Submissions regarding the draft report can be made until Friday, 20 December, via Council's Have Your Say page (see link above), via email at council@begavalley.nsw.gov.au, or by post to PO Box 492, Bega NSW 2550.
For more information phone Bega Valley Shire Council on (02) 6499 2222.
Photograph: Towamba River at New Buildings bridge.
END
---
Rate This Page
---
Share This Page