Compost & Mulch Facts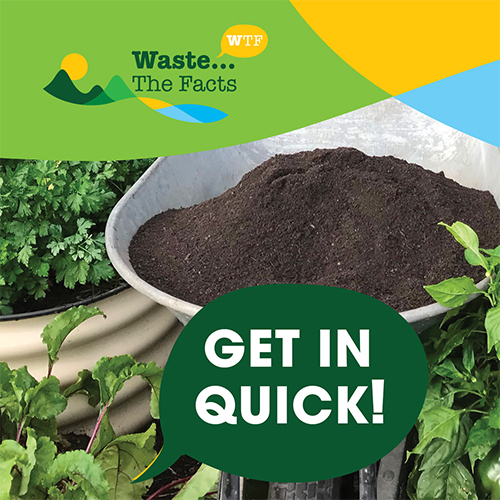 Make the most of your locally-produced FOGO compost and mulch, available at Merimbula, Eden, Wallagoot and Bermagui tips.
Tips for use
General soil improvement: spread a 10-20mm thick layer of compost (10-20 litres per square metre) across soil surface and incorporate to a depth of 50-100mm.

Landscaping and erosion control: apply a layer of mulch 50-100mm deep (50-100 litres per square metre) over whole area.
Want more tips for your lawns, trees, veggie gardens and flower beds?
Download our Fact Sheet here.
Benefits
Compost
Fertilising effect
Introduces quality carbon into the soil. This in turn:

Increases the health and activity of soil microbial populations
Helps prevent plant disease
Mobilises nutrients for plants
Improves soil structure
Improved moisture absorption

Improved moisture absorption
Improved water holding capacity for plants
Mulch
Protects soil surface
Prevents erosion
Keeps your topsoil where you need it most
Reduces run-off
Reduces erosion
Reduces evaporation
Provides insulation for soil

Keeps soil cooler in summer, reducing the effects of high temperatures which kill roots and soil biology
Keeps soil warmer in winter which helps keep soil biology active when it's cold

Renewable
Environmentally friendly
Safe use tips
These products contain micro-organisms.
Keep product moist when handling to avoid dust, avoid breathing dust or mists.
Wear particulate mask if dusty.
These products have a low risk of containing sharp materials, wear appropriate gloves and footwear as a precautionary measure.
Wash hands immediately after use.
Bega Valley Shire Council uses organics and food waste from green bins to produce high quality compost and mulch. This fully pasteurised compost and mulch is suitable for all residential and commercial applications.
Compost typical analysis
Major
Nutrients
%
(dry weight)
g/litire
(as applied)
g/kg
(as applied)
Org argon (C)
20
84
120
Nitrogen (N)
0.9
3.8
5.4
Phosphorus (P)
0.1
0.4
0.6
Potassium (K)
0.6
2.5
3.6
Calcium (Ca)
1.1
4.6
6.6
Magnesium (Mg)
0.4
1.7
2.4
Sulphur (S)
0.1
0.4
0.6
Organic Matter - 35% (dry weight)
C:N Ratio -22.1
Minor
Nutrients
mg/kg
(dry weight)
g/litire
(as applied)
g/kg
(as applied)
Iron (Fe)
11600
4872
6960
Manganse (Mn)
190
80
114
Baron (B)
15
6
9
Zinc (Zn)
120
50
72
Copper (Cu)
25
11
15
Other Info
(as applied)
Moisture
40%
pH
7.5
Bulk density
700 kg/m3
Mulch typical analysis
Our mulch undergoes the same process as our compost, it is just the larger particle size.
Particle size: 18-75mm — Bulk density: 60 kg/m3
Related Pages
---
Rate This Page
---
Share This Page