Bush comes to town on Bega Cycleway
Tuesday 22 September 2015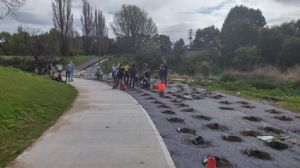 As part of the 2015 / 2016 Urban Interface Project Work, planting of the East Street, Bega cycleway took place on Friday 18 September 2015.
Bega River & Wetlands Group (BRAWL) approached Bega Valley Shire Council and Local Land Services for project assistance on behalf of Bega High School for their school project.
The project was funded by Local Land Services and with 'in kind' support from Bega Valley Shire Council.
Bega High School students, local residents, Council staff and members of BRAWL all dug-in and got their hands dirty for a good cause.
The planting of more than 1000 native plants on the day to enhance the urban environment and to bring the bush to town was a major success for Bega High School students.
Photograph: Community working together on the East Street cycleway planting project in Bega.
END
---
Rate This Page
---
Share This Page