Bushfire Recovery Bulletin #11
January 28, 2020
Advice From
Friday and Saturday present the next challenge for our community and firefighters with temperatures forecast to be in the high 30's and low 40's, add to that strong NW and NE winds.
Marty Webster from Far South Coast RFS says all active fire grounds in the Bega Valley will be tested. Watch and listen for more detail here
With that in mind Police and RFS officials are liaising with relevant local schools.
Agencies tied to the Emergency Operations Centre continue to plan ahead of the worsening conditions.
Council is moving all plant and machinery back to key locations ready to respond and assist.
Local Land Services are preparing for the need to house large animals in safer locations.
More to come.
Princes Highway remains closed into Victoria
One of the region's main economic and social links remains closed.
While local traffic into Mallacoota and Genoa is being allowed to travel on the Princes Highway with a permit, the road remains closed to the wider population.
The Cross Border Commission has added its weight to the effort to clear the road and make it safe again.
Every effort is being made to expedite this significant work. At this stage its thought the highway will remain closed for a further 2 weeks.
Council fees and charges post bushfire
In a further effort to support the members of our community who have been impacted by the ongoing bushfire disaster, Council will consider a report outlining all proposed financial relief and waivers for rates, fees and charges at next Wednesday's (5 February) Council meeting.
Bega Valley Shire Council's General Manager, Leanne Barnes, says "the widespread impact on our people, economy and environment has and continues to be substantial and we are committed to do everything we can to assist."
"With the fires declared a natural disaster by the NSW Department of Justice, a number of support and funding mechanisms have been triggered for community members and Council.
"The intention of the Council report is to enable a detailed framework to be established for minimising and waiving general rates; waste management charges and gate fees; water and sewerage charges (including bill shock and firefighting allowances and water fill stations); development, planning and building; leases and licences for the use of Council land and/or facilities; onsite sewerage management charges; interest charges and pension concessions."
The report will be considered on Feb 5. More to come.
Taking fire affected material to the tip
Council is currently accepting fire affected smaller household items and outdoor material for free at Eden tip at this time.
Examples of acceptable fire affected materials include items such as food waste from fridge and freezer clean outs, fire affected outdoor furniture, burnt garden green waste, garden implements, dog kennels, clothes lines, children's play equipment and trampolines.
We are not accepting large structural type materials from houses, businesses, or sheds at this time.
Building material cannot be accepted at any of our waste facilities due to the risks of asbestos contaminated material.
We are working with all relevant agencies to address and manage this risk and we will let you know when we can accept this type of material.
The NSW Government through Public Works will coordinate and cover the cost of all site clean up works. Final arrangements are being made now acknowledging the importance the community places on this work.
Your patience is very much appreciated as we await direction.
Essential Energy update
More than 950 homes and businesses had their power restored over the long weekend as Essential Energy crews continued to work across South East NSW.
Today, Essential Energy crews continued to focus on making repairs in parts of Bemboka, Mogo, Deep Creek, Moruya, Nelligen and Wandella
With weather conditions threatening to deteriorate later in the week, Essential Energy will continue to monitor conditions and plan repair works to ensure the safety of the community and our people.
Over the past weeks Essential Energy has contacted the majority of customers remaining without power to discuss their current power arrangements, advise them of estimated power restoration dates and offer the loan of a small portable generator and a fuel voucher for use with their own generators.
A dedicated team has been deployed to door-knock each of the 87 remaining individual customers who we haven't been able to reach.
771 customers remain without power across the South East and Snowy Valleys area of NSW.
$$$ for bushfire affected coastal waterways
The NSW Government is providing $5 million for councils to take immediate action to ease the impact of bushfires on coastal waterways.
Minister for Local Government Shelley Hancock says, "The effects of the bushfires have the potential to degrade coastal waterways by impacting water quality and coastal ecosystems which in turn has the potential to impact estuary environments and local industries such as tourism and aquaculture."
The Bushfire Affected Coastal Waterways Program funding round will be open for applications from councils for six weeks until March 10 2020 or until the $5 million allocation has been exhausted.
Activities eligible for funding include but are not limited to:
• sediment and erosion control actions
• dune management and restoration
• estuarine foreshore restoration
• littoral rainforest regeneration and restoration
• coastal wetland restoration
• habitat restoration
• riparian corridor management
• water quality monitoring
• other post-fire actions that minimise further environmental impacts on coastal waterways and estuaries.
For more information on the program, and how to apply for grants, visit: For more information on the program, and how to apply for grants, visit: https://www.environment.nsw.gov.au/…/bushfire-affected-coas…
Bushfire art workshops
Bega Valley Regional Gallery is partnership with Regional Arts NSW and Headspace Bega and holding art workshops for young people impacted by the bushfires later this week and into February.
"We are running the workshops in conjunction with the bushfire Recovery Centre mobile outreach service in Cobargo, Eden and Bermagui," says BVRG Director, Iain Dawson.
"We hope these workshops will help young people process their experiences by providing a creative outlet and by offering a format where they can perhaps share those experiences or even collaborate with other young people in an artistic way."
The workshops are free and all materials will be supplied.
Workshops:
Cobargo Hall, Thursday 30 January, 10.00am – 2.00pm

Eden Log Cabin, Bass Street, Thursday 6 February, 10.00am – 2.00pm

Bermagui Community Centre, Bunga Street, Friday 7 February, 10.00am – 2.00pm
There is no need to book, just come along when you can.
Bega Valley bushfire recovery centre
As a community we are a resilient bunch, however information and support are vital for the entire community as we move through the recovery phase.
In our travels we have come across many people who feel they haven't been as impacted as others and have expressed concerns about taking up services, however it is absolutely vital that the message gets out loud and clear that all the support agencies are equipped and staffed to help all those impacted.
The home base for the Recovery Centre is the Bega Valley Commemorative Civic Centre in Zingel Place Bega and is open from 9.00am – 5.00pm weekdays and from 10.00am – 4.00pm on weekends.
You can make contact on 6499 2345 or via email at recovery@begavalley.nsw.gov.au.
A range of services are available for you to meet with face to face, helping one step at a time.
Accessing the mobile service is another option, especially for those living in our more remote areas.
The Mobile Recovery Outreach Service is open between 10.00am and 2.00pm on the following days:
Quaama Hall – Tuesdays

Towamba Hall – Tuesdays

Bemboka Hall – Wednesdays

Wonboyn RFS Shed – Wednesdays

Cobargo Hall - Thursdays and Saturdays

Eden Log Cabin - Thursdays and Saturdays

Bermagui Community Centre – Fridays

Wyndham Hall - Fridays
Want more info?
Bega Valley Shire Council is adding to our online recovery resources daily. Start exploring your needs at - www.begavalley.nsw.gov.au/Recovery_Support/
Photo by Cliff Shipton: The 'Gypsy Lady' water bomber based at Merimbula Airport, part of the fire fighting effort in southern NSW.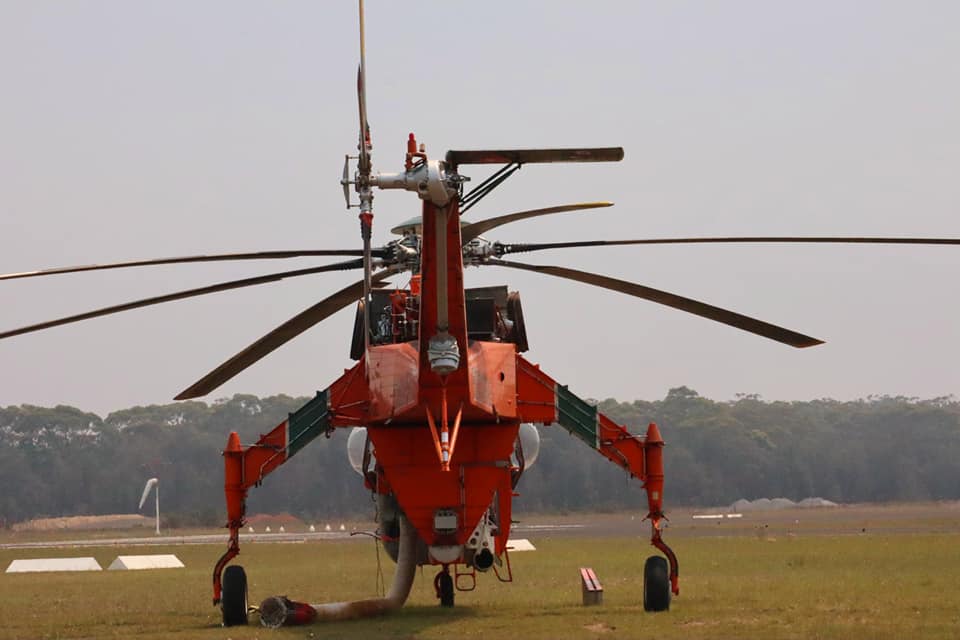 Related Pages
Bushfire Recovery Bulletin #11
---
Rate This Page
---
Share This Page