Emotional exhibit opening at Bega Gallery
Friday 29 January 2016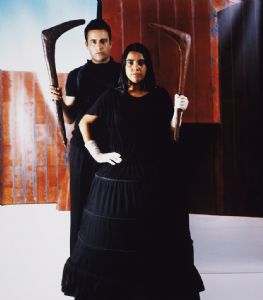 The Bega Valley Regional Gallery is launching a new exhibit of photographs from renowned South Australian artist Christian Thompson on Friday 5 February 2016.
The series, 'Emotional Striptease,' is on loan from the Art Gallery of NSW, depicting Thompson and his young indigenous contemporaries in a series of carefully choreographed poses.
The opening night will be launched by the Assistant Curator of the Aboriginal & Torres Strait Islander Art National Gallery of Australia, Kelli Cole, the curator behind the current exhibition of five contemporary indigenous artists 'Unsettled' at the National Museum of Australia.
'Unsettled' was created to respond to the blockbuster National Museum show 'Encounters,' which showcases post contact objects from the British Museum.
Bega Gallery Curator, Iain Dawson, said Thompson is regarded as one of the most accomplished and exciting contemporary Australian artists working in the photography and digital media space today.
"The body of work from the early 2000s features artefacts from the Melbourne Museum against backdrops of institutionalised cultures including Melbourne's Federation Square.
"The works with their figure-in-landscape compositions collectively create and reclaim a sense of new reconstructed sites of urban indigenous identity," Mr Dawson said.
Christian Thompson's internationally acclaimed work explores issues of identity, cultural hybridity and history.
Thompson is an Inaugural Charlie Perkins Scholar and one of the first Aboriginal Australians to be accepted into the University of Oxford in its 900 year history.
Thompson's formal training includes sculpture, photography, video, performance and sound.
The exhibition opens 6pm Friday 5 February and all are invited to attend.
For further information, contact Iain Dawson on 6499 2202.
Photograph: Christian Thompson's 'Pegasus Print' (2003) from the 'Emotional Striptease' exhibit.
END
---
Rate This Page
---
Share This Page