Mayor signs on to clean energy future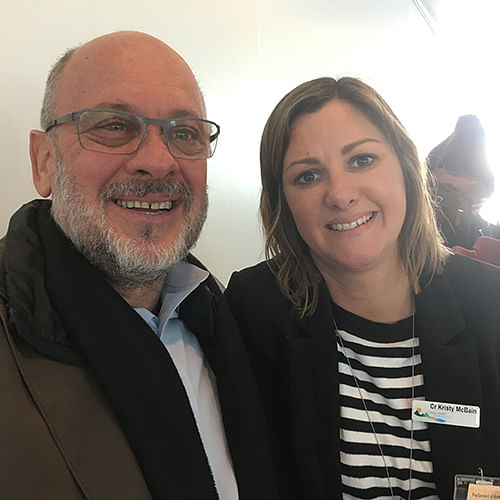 Thursday, 20 July 2017
Fresh from a recent public forum that saw over 400 people turn out in Bega, Mayor Kristy McBain has joined more than 30 other councils from across the country in Canberra for the launch of the Cities Power Partnership.
Inspired by Professor Tim Flannery and The Climate Council of Australia, the partnership empowers councils to undertake projects and initiatives that combat climate change.
"We stand side by side with our coastal cousins in recognising the potential of this partnership," Cr McBain said.
"Eurobodalla, Shoalhaven, and Kiama Councils have all signed on, which not only adds weight to our efforts locally but points to our vulnerability as largely coastal communities."
Over four hundred people packed into the Bega Valley Commemorative Civic Centre a month ago to hear Professor Flannery speak and give details of the Cities Power Partnership.
"The partnership seeks to accelerate the success we have already seen in the Bega Valley," Cr McBain said.
"As a partner, Council gets exclusive access to the very best information and expertise, and we have started at the very top with Tim Flannery himself."
In the next few weeks, Bega Valley Shire Council will reach almost 200 kilo-watts of solar power capacity, generating about 240 mega-watt hours of emission free energy every year.
"We are on our way towards a future based around renewable energy, in line with our Climate Change Strategy," Cr McBain said.
There are emerging opportunities locally including new industries and opportunities that the Partnership will also help the Shire embrace.
"I'll be speaking in Bermagui this Sunday with Clean Energy for Eternity and looking to see how we can continue to work together, our partnership around the Tathra Solar Farm is a great example of what can be achieved," Cr McBain says.
Based on the success of the recent community meeting in Bega, The Climate Council will be holding similar forums within the 30 plus other Shires committed to the Climate Cities Partnership.
Photograph: Mayor Kristy McBain, up close with Professor Tim Flannery at this weeks launch of the Cities Power Partnership in Canberra
- END -
---
Rate This Page
---
Share This Page