Marcus Callum wins the Shirley Hannan
26 October 2018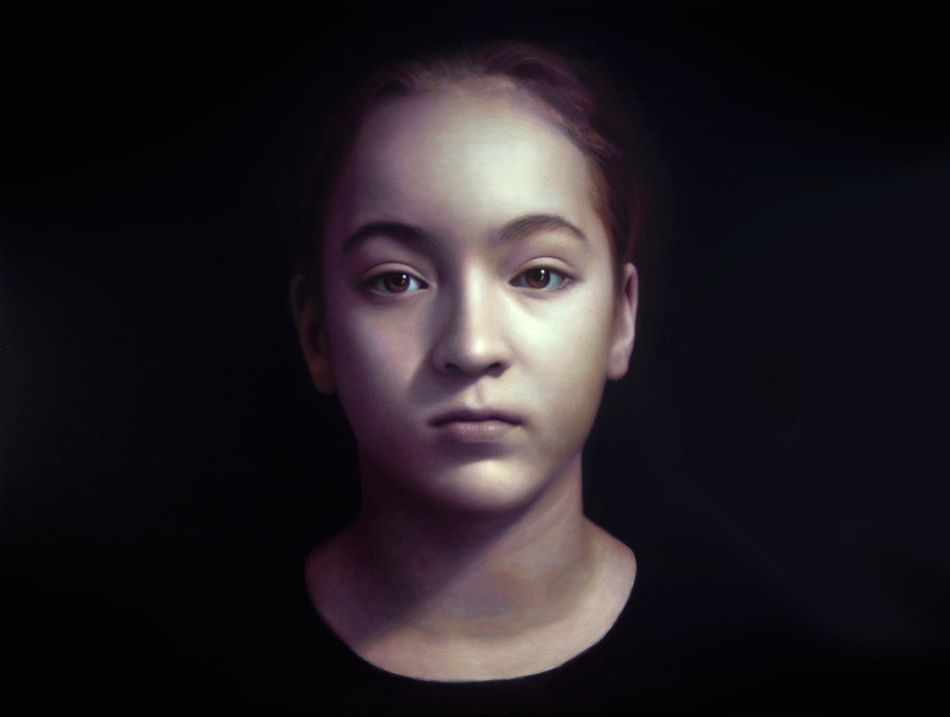 Marcus Callum has beaten out an outstanding collection of finalists to win the 2018 Shirley Hannan National Portrait Award.
Callum, who trained in Sydney and New York, is a three-time Archibald Prize finalist and won the Black Swan Portrait Prize in 2015.
His oil on linen creation entitled 'Meg' attracted the acclaim of Guardian Australia art critic and guest judge, Dr Andrew Frost, who made the announcement at tonight's opening of the exhibition at the Bega Valley Commemorative Civic Centre.
Dr Frost was impressed with the quality of all the finalists, but reserved glowing praise for the winner.
"Marcus Callum's painting has an arresting luminosity that matches the sensitivity of the treatment of his subject. It's also a virtuosic demonstration of contemporary realist portrait painting," Dr Frost said.
Callum, who picks up $50,000 (Australia's richest prize for realistic portraiture) for his work said the portrait is about growing up in a complicated, confusing and often extremely frightening world.
"The transition to adulthood can simultaneously be full of joy and fraught with danger. My subject, Meg, stares at the viewer with an uneasy confidence. Despite an uncertain future, she emerges from the darkness as an all-knowing and omnipotent being," Mr Callum said.
One of Australia's most loved and richest portrait awards, the biennial Shirley Hannan National Portrait Award celebrates realistic portraiture in memory of the Bega Valley Regional Gallery's eponymous patron.
Hannan, a gifted portraitist, and well known in the Bega Valley as a staunch supporter and generous patron of the arts, funded the John Balmain National Award for Portraits and Figure Drawing from 1993 until she re-established it in her own name in 2002 with a substantially increased first prize of $15,000.
A prerequisite for the award was made that those works selected to hang depict their subjects accurately and demonstrate a sound skill and knowledge of drawing and painting technique. The award was established with a specific and unremitting realist bent, which continues to this day.
Before her death in 2005, Hannan doubled the prize purse to $30,000 and it was decided to discard the figure drawing component of the prize, concentrating on portraiture alone.
Hannan's husband, Brian Settle, established the Shirley Hannan Trust to perpetuate the Shirley Hannan National Portrait Award as a biennial, national portrait prize with a focus on accurate depiction.
In 2012, Hannan's son Peter, himself a talented photographer, paid further tribute to his mother's memory with a generous personal donation of an additional $20,000 bringing the prize purse for subsequent awards to $50,000.
Bega Valley Council Mayor, Cr Kristy McBain, paid tribute to the "continued and generous" support of Hannan's son Peter when officially opening the Award exhibition in conjunction with Hinterland (an exhibition of 21 local artists).
"The great esteem this award is held in is clear, with the largest number of entries ever being received and all Australian states and territories represented," Cr McBain said.
Cr McBain also thanked all the artists and families who had travelled for the opening.
"A huge Bega Valley welcome to all the artists and families who have travelled to be here tonight and thank you for the significant contribution your attendance has on our economy.
"I encourage you to take time to, not only enjoy the exhibitions, but to have a look around our beautiful Shire," Cr McBain said.
The Shirley Hannan National Portrait Award is on display at the Bega Valley Regional Gallery until 8 December, while the Hinterland exhibition can be viewed in the lower level of the Bega Valley Commemorative Civic Centre until 16 November.
Photograph: Marcus Callum's oil on linen creation entitled 'Meg' has been announced as the winner of the 2018 Shirley Hannan National Portrait Award.
---
Rate This Page
---
Share This Page