Lost Huskie reunited with owner after more than two years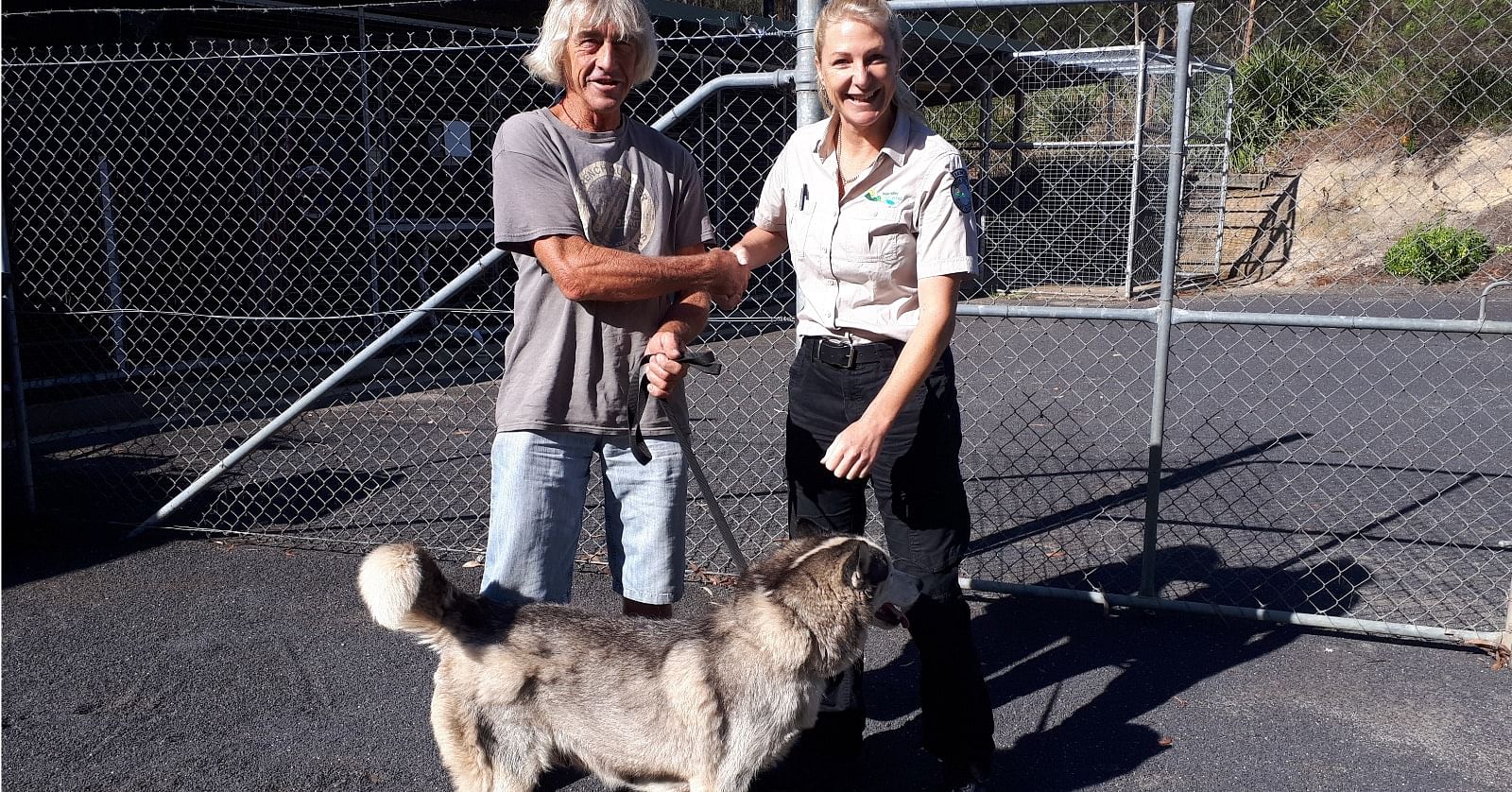 16 March 2020
Like most dogs, they are beloved family members, so when Indie the Huskie went missing from her Nowra home, her owners and three siblings were understandably upset when she didn't come home that first day.
But by a miracle (and virtue of microchipping), some two and a half years and 219 kilometres later, Indie was found in Bermagui and has been reunited with her family.
Nowra resident Graham Lee recalls the day Indie went missing.
"I came home after a big storm and the fence had fallen and the gate was off its hinges. Indie and two of her siblings, Doris and Ally, were also missing. Bob their brother was on the front veranda," said Mr Lee.
All four Huskies were microchipped, which helped as two of them returned, but Indie didn't come home.
"Initially I thought she would turn up, like the other's did. I kept going to the pound, but after a few weeks of no word, I thought she must have been hit by a car," he said.
When a resident in Bermagui found Indie and her pups on her street she called the Bega Valley Shire Council.
Council's ranger on duty took the dogs to safety, scanned Indie and contacted her owner Graham soon after, discovering that she'd been missing for more than two years.
Indie's two pups, currently in Council's pound, are happy and healthy and will soon be rehomed through the Animal Welfare League.
"When I first got the call I was like, 'What?' I'd almost forgotten about her," Mr Lee said.
Since her disappearance, two of Indie's siblings had died so Graham had only one dog left.
"It's great she's back home. I think if you get one dog you should have another so at least they have each other to talk to and play with," he said.
"She's happy but not quite herself. She roams to the fence, has a bit of a sulk, then is happy enough running around," he added.
It's unknown how Indie travelled all this way. What is known is that without microchipping and registration, there's no way Indie would have made it back home.
To find out more about microchipping and registering pets, visit https://www.begavalley.nsw.gov.au/cp_themes/default/page.asp?p=DOC-IFL-11-05-76.
Photograph: All smiles for Nowra's Graham Lee and Council Ranger, Trudi Badullovich after Graham and Indie were reunited after more than two years.
---
Rate This Page
---
Share This Page