Contract awarded for Towamba and Burragate roads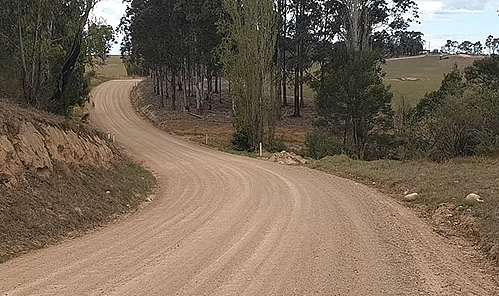 Work to upgrade the Towamba and Burragate roads is set to commence before Christmas
18 November 2020
The much-anticipated upgrade to the Towamba and Burragate roads has taken a major step forward with Symal Infrastructure being awarded the construction contract for this significant project.
Bega Valley Shire Council Mayor, Cr Russell Fitzpatrick, said those in the Towamba, Burragate and surrounding communities will benefit from improved safety, driveability and fully sealed access to the larger commercial hubs of Pambula, Eden, Bombala and further afield.
"With 121 properties along the route at last count, as well as other people using the roads on a daily basis, it will be fantastic to see the huge benefits this project will bring," Cr Fitzpatrick said.
"Work is set to commence prior to Christmas, with environmental controls and vegetation management to kick off from early next month.
"Importantly, the project will be undertaken in stages to minimise the disruption to residents throughout the construction period. We'll also ensure we keep impacted residents and the community up to date throughout the project."
Member for Bega, Andrew Constance, said the road sealing project would be life changing for Towamba and Burragate residents.
"No longer will cars be subjected to damage from rough roads, and residents' fears about emergency services or allied health services not being able to access them in adverse conditions will be alleviated," Mr Constance said.
"Once complete, the sealed roads will also improve connections between key freight and industry hubs such as silos, logging operations, industrial parks and depots, not only in Towamba and Burragate, but throughout the entire south east region of NSW.
"The project will improve connectivity between local and regional roads to state highways, including the Princes Highway, reducing travel times, improving safety and lowering costs for local businesses.
"I made a commitment to the local residents to see this work undertaken and given the year we have had, there is no better time than now to get on and deliver this project," Mr Constance said.
The project includes sealing, pavement upgrade, new guardrails, signage and drainage along 22.4 kilometres of road.
It is set to be completed in late 2021 and is being funded through a $10 million grant from the NSW Government.
For more information on the Towamba and Burragate roads upgrade, visit the project page on Council's website.
Related Pages
Contract awarded for Towamba and Burragate roads
---
Rate This Page
---
Share This Page