Don't waste your waste - grants opening 7 October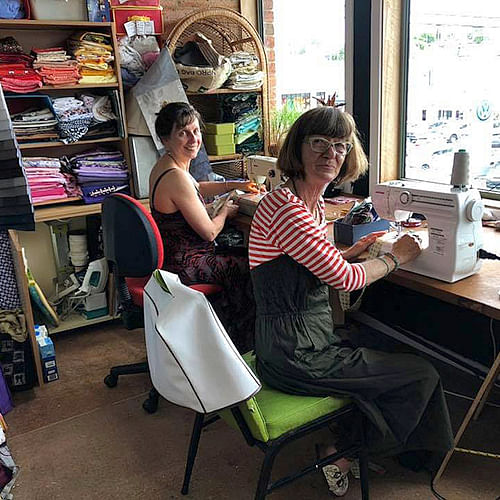 30 September 2019
The Bega Valley Shire Council is looking for community, charitable and not-for-profit groups working on local waste solutions and community education projects to apply for the Waste Community Assistance Grants opening on Monday 7 October.
The average household in our region creates an estimated 30.6kg of waste per week. With a move towards a more sustainable way of repurposing and re-use, some of that could in fact become something really useful, as opposed to waste!
One previous grant recipient, Boomerang Bags Bega Valley Sapphire Coast, wanted to do something about the tonnes of plastic bags and fabric waste created each year.
The group accepts donated fabrics for up-cycling into reusable, zero waste shopping bags.
The Coordinator for Boomerang Bags Bega Valley Sapphire Coast, Dörte Planert, said the reusable Boomerang Bags are based on the concept of borrowing and returning a bag for someone else to use, once you have finished with it.
"The Council grant helped to run a number of sewing workshops, to buy an electric fabric cutter, hand cutters and cutting mats, and we were able to get all the donated sewing machines serviced and repaired because none were working properly," Ms Planert said
With the willingness and generosity of people from all fabrics of society, the group has sewn and distributed over 3,000 Boomerang Bags across the Bega Valley.
The Boomerang Bags initiative is about more than just making bags and diverting waste; it is starting conversations, connecting with each other over a cup of tea, fostering sustainable behaviour and having fun! You don't have to know how to sew to be involved as there are numerous activities to participate in – all you have to do is contact Dörte Planert on (02) 6494 4787.
If you are currently involved in a community waste reduction initiative, or have ideas that encourage and foster sustainable waste management behaviour amongst the community, consider applying for the Category B Community Waste Grants.
For more details, head to www.begavalley.nsw.gov.au/grants.
Photo: Volunteers sewing reusable Boomerang Bags, past recipient of a Waste Community Assistance Grant.
END
Related Pages
Don't waste your waste - grants opening 7 October
---
Rate This Page
---
Share This Page